Obituaries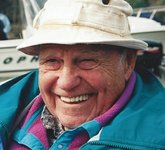 Harold Rex Keller was born February 16, 1913, to Leo and Mary Tauscher Keller, in McMinnville, Ore. He died Nov. 11, 2012, in Vernal, Utah, with his daughters at his side. Harold grew up in Oregon. He was raised with ...
Jarrod Kunkel was born Aug. 2, 1981, in Salida to Richard Kunkel and Dianna Ponikvar. He lived in Buena Vista from birth until the age of two when he moved to Jacksonville, Fla. Jarrod stated kindergarten in Jacksonville Florida then ...
Death Notices
James Garner, a longtime Craig resident, died Thursday, Nov. 8, 2012. A memorial service will take place at 1 p.m. Monday at 3811 E. University Drive in Mesa, Ariz.