Obituaries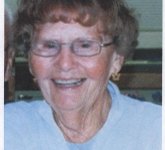 Elizabeth "Betty" Townsend Chute died Friday, Dec. 9, 2011, after a brief illness. She was 81. Betty was born Nov. 2, 1930, and lived in Columbus, Ohio, until her marriage to Edgar Townsend on Aug. 29, 1947, in Greenup, Kent. ...
Mary Elizabeth Barton was born March 14, 1913, in Wallace, Kan., to Wellrose Stuart Barton and Sara Jane McKinnon Barton. She married George Lee Dixon on Oct. 11, 1936, in Sharon Springs, Kan. Immediately after they married, they moved to ...
Bytha Wick, a former Snake River resident, died Friday, Jan. 6, 2012, in Palisade. A funeral service will be at 10 a.m. Thursday, Jan. 12, 2012, at Snake River Community Church in Baggs, Wyo. Interment will follow in the Baggs ...
Carlos Zaragoza, of Craig, died Saturday, Jan. 7, 2012, at his home. Mass of Christian burial will take place at 11 a.m. Wednesday, Jan. 11, 2012, at St. Michael Catholic Church. Interment will follow in the Craig Cemetery.