Obituaries
Berdena June (Reeve) Nicodemus was born June 19, 1929, on her parents' ranch on Waddle Creek near Hamilton. She was the third of four daughters of Ralph and Edith Reeve and grew up on the family ranch. She attended the ...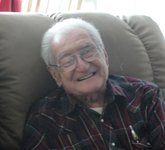 Rene V. Miles, a longtime Craig resident, died in Vernal, Utah, at the home of his son, Mike Miles. Surrounded by family, he returned to the arms of his heavenly father at 2:30 p.m. Sunday, April 8, 2012, Easter Sunday. ...
Marian Katherine Cline died Monday, April 2, 2012, at Sandrock Ridge Care & Rehab in Craig. She was 87. Marian was born Jan. 4, 1925, in Walsenburg. She was raised in Walsenburg and Cripple Creek, and attended school in Cripple ...