Obituaries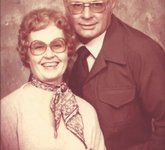 Joseph Brown (Joe) Spence was born July 4, 1925, in Meeker, to Joseph Wert Spence and Jennie Mary Brown Spence. He died Saturday, March 3, 2012. Joe spent his childhood in Meeker on the family ranch. His father was a ...
Kenneth B. Poirier, Jr., died Wednesday, April 4, 2012, in Littleton. He was 76. Ken was born March 12, 1936, in St Paul, Minn., to Mary Ada and Kenneth Poirier, Sr. He married Marcia Tucker on Oct. 23, 1982, and ...
Montie E. Burgess was born June 14, 1929, in Craig, the daughter of Murl and Alta (Talkington) Prather. She was raised and attended school in Craig, graduating from Moffat County High School in 1947. Montie married Donald Grounds on May ...