1940 - May 12, 2011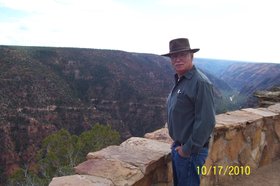 Gerald "Hank" Henry Rader, born April 8, 1940, in Craig, passed away May 12, 2011, in Cortez.
Gerald is preceded in death by his father, Harvey Rader; mother, Mary Rader, and sister, Linda Rader. He is survived by his wife, Marie; brother, Nick; sons Ron (Dawn) and Kent; four grandchildren, Kyle, Brendan, Meagan and Bridget; and one great-grandchild, Rylie.
Gerald enjoyed spending time in the Colorado outdoors. He was an avid fisherman, backpacker, hiker and camper. He had family ties to Colorado dating to 1888. Gerald was very adventurous and spent many summers exploring the U.S. and Canada with his wife, Marie. He will be remembered as a loving husband and father and a source of inspiration for all those who knew him. His high values of honesty, integrity, patriotism and incredible work ethics have and will be passed on to all generations that follow, as his legacy.
He was a true American!