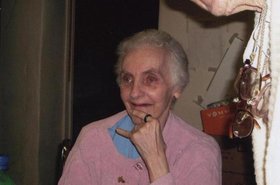 Viven Louise Perry died Tuesday, March 29, 2011.
She accepted Jesus Christ as her Savior at the age of 15. She died after a long illness.
Viven was born Dec. 9, 1940, in Craig, to Fredrick Lyle Wilson (deceased) and Pearl L. Schneider, who survives her.
Her husband, Robert Dale Perry, died in 1996, as did a young grandson in 1976.
She is survived by her mother, Pearl; brother Fred (Margaret) Wilson, of Cave Junction, Ore.; half-sisters Mary Jane Montoya, of Craig, and Margaret Ann Kelly, of Grand Junction; and children Lee Elwin Decker, Jr., Tony (Deanna) Allen Decker, Kim (Charlene) Eugene Decker, Marcheta (Bobby Sherril) Jo Richardson, and Christopher Gene Jekel. Other survivors are her aunts, Ruth M. White and Opal M. Counts, both of Craig; as well as five grandchildren and four great-grandchildren.
Viven was a certified nurse's aide who loved nursing and music, and who played many different instruments.
She was raised in Craig before moving to Arizona in 2002.
Services are pending.