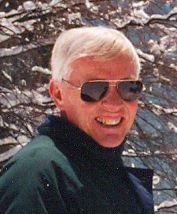 Veryl Cleverly was born Oct. 5, 1937, and died May 1, 2011, of complications from open heart surgery.
He was the eighth child born to Viene Lauretta Potts and Thomas Franklin Cleverly.
Veryl was born in the basement house that his father was building on Howard Street in then Woods Cross, now Main Street in North Salt Lake, Utah.
He enjoyed a childhood of roaming the foothills east of his home and riding the sheep and hiding in the hay bales at the old North Salt Lake stockyards. Friends Bill Wood, Sam Howard and Ralph Kenyon and nephew Norton Cleverly were always there with him to put pennies on the railroad tracks and share other adventures.
When Veryl was 14, he spent a summer working on his brother Lawrence's farm near Nyssa, Ore. He liked this life and the next summer chose to stay and attend high school with his nieces, Deone and Jerilyn.
He also liked Carolyn Vaughn, the girl across the aisle in his English and physics classes. He married her on July 19, 1956, in the LDS temple in Logan, Utah. Veryl and Carolyn shared 55 years together.
Veryl was an accountant for 21 years at International Harvester in Salt Lake City, Utah, and Burley, Idaho. He then worked for J & J Office Supply in Burley before purchasing Jackson's Office Supply in Craig in 1976.
He and Carolyn worked together until they retired to their "paradise" upriver of Meeker in 1993.  They have resided in Preston, Idaho, since 2007.
Veryl loved and cared for Carolyn with all his heart. He enjoyed fishing, traveling and tinkering with his sprinkler system. His children, grandchildren and his yard were his pride and joy.
Veryl was an active member of The Church of Jesus Christ of Latter Day Saints.
He loved serving people in the church and in the community.
Veryl is survived by his wife, Carolyn; four children, Derek (Lani), of Craig, Kathryn Spencer (Kenny), of Lehi, Utah, Alex (Lori), of Oxnard, Calif., and Blake (Bruchele), of Casper, Wyo.; 18 grandchildren; four great-grandchildren; one brother, Darrell (RaNae); and two sisters, Lorraine Hudson, of Atascadero, Calif., and Ann Thomson (Dale), of Salt Lake City.
He was preceded in death by his parents; three brothers, Willard, Lee and Lawrence; one sister, Arlean Dennis; and one grandson, Shelby Spencer.
A service will be held at noon Thursday, May 5, 2011, in Preston, Idaho, 8th Ward, 213 South Second East. 
Friends may greet the family at the church between 10:30 and 11:45 a.m., prior to the service. 
A graveside service at the Bountiful city cemetery will be held at 5 p.m. that same day.
Online guest book is at www.russonmortuary.com.