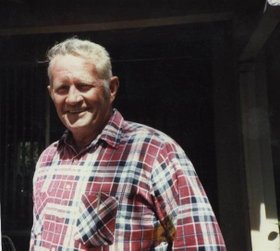 Jack Oval Northrup died Wednesday, Feb. 16, 2011.
Jack was a jack of all trades. He logged when he was a young man and then started building homes and barns. Jack enlisted in the U.S. Marine Corps and fought in the Korean War from 1952 to 1954.
After leaving the service, he married Betty Marie Smith.
From this union, four children were born: Richard, Jack (Georgia), Lonnie (Karen) and Rebecca Rolando.
Jack and Betty moved to Alaska 25 years ago to pursue his lifelong passion of fishing. They said Jack could catch a salmon in a mud puddle. He sure loved to fish.
Jack was blessed with 10 grandchildren: Vanessa and Jack Northrup; Jack and Laci Northrup; Jessica, Jeremy, Sean and Luke Northrup; and Chad and Rachel Rolando.
He was preceded in death by his father, mother and one sister.
Jack is survived by his brothers, Earl and Lloyd, and sister Joan. He is also survived by his wife, Betty, and all his children and grandchildren.
His family will greatly miss their father, husband, brother and grandfather. His memory will never be forgotten, especially when outdoors enjoying that all life has to offer. "Semper Fi."
A graveside service will be at noon Saturday, May 7, 2011, at the Craig Cemetery.