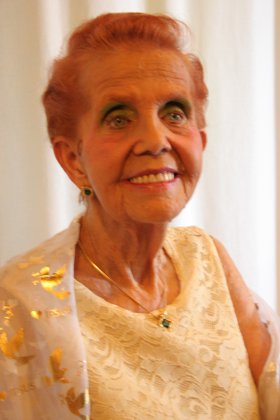 Georgia J. Herod was born to George and Sybil Hall on Dec. 4 1932, in Salt Lake City at Holy Cross Hospital.
One sister, Junne (Hall) Charon (Mel) Saunders, of Midvale, Utah, survives.
Georgia married Jay B. Dunn on Dec. 5, 1950, in Elko, Nev. They had five children: Margaret (Roque) Thomas, of Reno, Nev., Samuel Dunn and George M. (Cherie) Dunn, both of Salt Lake City, James Dunn (deceased), and Siouxanne Mease, of Uganda and Grand Junction.
They divorced and she later married George A Herod, Sr., of Craig, on Sept. 26, 1960 in Dinosaur (Artesia). George preceded her in death on July 3, 2005. They had two children, Wendy A Herod Schneider (deceased), and George A. (Stephanie) Herod, Jr., of Craig. Georgia had 20 grandchildren and 44 great-grandchildren.
Georgia loved singing to the Lord, church, the Gideon's, nursing home, and hospital visitations.
She was a prayer warrior. Georgia had many career paths: school bus driver, secretary, security guard, flagger and Avon lady.
She loved to hunt, camp, fish, garden, can, rock hunt, sew, knit, read, crochet, and restore furniture. She was a farm/ranch wife and loved living in the country. She learned animal husbandry and did not hesitate to give the horses and livestock shots if necessary.
In later years, she would not hesitate to put off appointments to watch Gunsmoke or Bonanza. She loved old movies and musicals and could be heard singing show tunes. She was a hoarder.
Georgia returned to high school in 1971. She drove the school bus, walked to class, and then walked back to drive the bus to take kids home. She obtained her diploma with her teen classmates in cap and gown in 1972, receiving a standing ovation from her entire class. In 2002, Georgia received her associate's degree in general studies from Colorado Northwestern Community College at age 70.
Georgia was a lifetime resident of Craig and a charter member of Calvary Baptist Church. She was known and loved by the community and never had anything but a smile on her face and a kind word to say.
Her health failed her in later years. Pain, crippling medical issues, and numerous falls caused her health to steadily decline and at 3:10 a.m. Monday, March 14, 2011, Georgia finally breathed her last earthly breath and went home to be with the Lord, to forever live with him in a perfect, pain free body.
Her daughter, Siouxanne, and daughter-in-law Stephanie were at her side.
Funeral services were Friday, March 18, 2011, at Calvary Baptist Church and she was interned at Craig Cemetery.