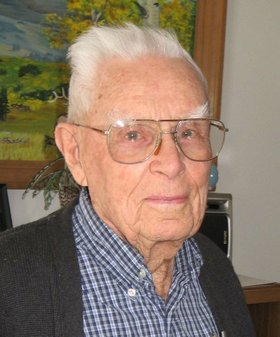 Perry Douglas Van Dorn died Friday, June 17, 2011, at Sandrock Ridge Nursing Home in Craig. He was 95.
Perry Van Dorn was born July 16, 1915, in Oak Creek, to the pioneer family of Carl Douglas Van Dorn and Myrtle Bryan Van Dorn.
The family moved to Craig when Perry was two weeks old. Other than four years during World War II and a short time that he lived in Grand Junction, Perry lived his entire life in Craig.
Most of Perry's early years were spent on a homestead near the present day area of 10th and Colorado Streets. Perry and his father built what has been referred to as the "Indian Cave" at the homestead, a cave that was used for their chicken house.
In 1926, when Perry was 11 years old, he and his family moved to a ranch north of town, where he lived until 1939.
On Sept. 24, 1939, he married Gloria Miller in a beautiful ceremony at the First Baptist Church in Craig. Soon after their marriage, they moved to the Elkhead area and farmed.
In 1941, Perry and Gloria, their children Doris and Pete, and Perry's father, Carl Van Dorn, moved to Vallejo, Calif., and worked at Mare Island Naval Shipyard building wooden ship-to-shore boats to replace boats destroyed in Pearl Harbor.
Their daughter Gwen was born while in California. Those dramatic years held hardship and fear as well as life enriching experiences of travel around the San Francisco Bay area.
He was later drafted into the U.S. Army but the war ended before he was finished training.
The family then returned to Craig to make their home. They used some of the money they were able to save during his employment in California to buy a large lot on the far north of Russell Street. He built a small house for a temporary home.
They lived with their first three children in this little house for a year while Perry built the "big" house at 895 Russell St.
In 1946, he accepted a position with the U.S. Post Office, where he worked as a clerk and later was the assistant postmaster. He spent the next 28 years at the Post Office, retiring in 1974.
In 1960, he and Gloria purchased the Craig Greenhouse and successfully ran that business for several years. After their retirement, they traveled extensively around the world and spent winters in Yuma, Ariz., for about 20 years.
During the several years they lived on Russell Street, Perry looked for additional ways to bring in a little extra money to support his growing family, which now included Norman and Janet.
Because of his experience and passion for building, he took a correspondence course in architectural design and received a certificate. He designed many homes, commercial, and public buildings in Craig, including the gymnasiums at Sunset and East elementary schools.
He served on many community boards, including the Craig City Council where he was mayor pro tem for a time.
He previously was a member and deacon at First Baptist Church and currently was an active member of Yampa Valley Baptist Church in Craig.
He was honored several years ago for being one of a handful of men who had the drive and foresight to build a Youth Bible Camp at Mount Elim on Lynx Pass.
Perry's hobbies included woodworking, crocheting beautiful lace tablecloths, caning chairs, scanning family photographs, gardening and traveling.
He and Elizabeth spent many years volunteering at the Museum of Northwest Colorado, where Perry was a very valuable source of local historical information.
His detailed knowledge of the area will be greatly missed by the community. In addition to years of genealogy work that he has documented, he wrote a book, "Flickering Lights in Vacant Windows," which was a history of the J.W. Hugus Mercantile Company, an early day chain of general stores, one of which his mother worked in.
Gloria died Feb. 17, 1996, after 57 wonderful years of marriage.
Perry married Gloria's sister Elizabeth Davidson on Nov. 26, 1998, in Craig. They were very happily married for nearly 13 years.
Perry and Gloria were the parents of five children, Doris, Pete, Gwen, Norman and Janet.
Perry is survived by his wife, Elizabeth; children Doris and her husband John Zimmerman, Pete and his wife Joyce Van Dorn, Gwen Rickerby, Norman and his wife Un Chu Van Dorn, and Janet Gerber.
He is also survived by grandchildren John (Lucille) Zimmerman, Jim (Angie) Zimmerman, Doug (Janelle) Van Dorn, Stephen Van Dorn, Marsha (Dave) Burke, Adrian (Christy) Bevel, Brian Bevel, Cheryl Davis, Darrin (Shawnel) Bevel, Stacy (Adrian) Gray and Aric Gerber. He is also survived by 20 great-grandchildren and three great-great grandchildren.
Survivors also include Elizabeth's children Dennis (Julie) Davidson, Chuck (Kelly) Davidson Dean (Diane) Dav-
idson and Mary (Pat) King, 10 grandchildren,14 great grandchildren and eight step grandchildren.
He was preceded in death by his first wife, Gloria; his parents; brothers Robert and George; sister Esther; granddaughter Sandy Van Dorn; great-granddaughters Amy Bevel and Lelani Zimmerman; and sons-in-law Eldon Gerber and Dale Rickerby.
A funeral service will be at 1 p.m., Wednesday, June 22, 2011, at Yampa Valley Baptist Church east of Craig.
Interment will be in the Fairview Cemetery in Craig. Memorial donations may be made to the Museum of Northwest Colorado.