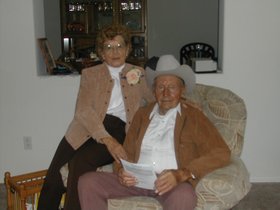 Peter "Lee" Jons, 88, died Thursday, June 9, 2011.
According to his wishes, he was at home on the original homestead near Baggs, Wyo., where he was born. His beloved wife, Donna, was by his side.
He was born Nov. 6, 1922, to Peter and Elsie (Adams) Jons.
He attended school in Baggs and graduated in 1941.
He attended the University of Wyoming for three semesters and then joined the Signal Corps and went to radio school in Craig before joining the Air Corps in 1943.
His first combat mission was March 1, 1945. He was a tail gunner on a B-17 with the 381st Bomber Group based in Ridgwell, England. He then joined the Medical Corp and was stationed in Sioux Falls, S.D., and was honorably discharged Nov. 26, 1945.
He and Donna Grill, the love of his life, went on a prom date in March 1946 and were married March 1, 1947. They were proud parents to three children.
Lee and Donna loved their travels, which included Europe, Canada and Mexico. However, they were always anxious to get back home where they ranched until the day of Lee's death.
He loved all aspects of the agricultural industry, especially buying good bulls and riding top-notch horses. In his younger days, he was truly in his glory chasing and roping wild horses out in the hills and in the winter driving his perfectly matched teams of Belgium workhorses.
He loved spending countless hours feeding and observing his cattle. Afternoons would find Lee and Donna driving among their cattle, where he knew the history of each and every one.
Lee was active in the Little Snake River Valley community and served on numerous boards and committees. Among others, he was a charter member of the Soil Conservation District and spent decades as secretary of the West Side Canal, where his knowledge on water issues was often sought. He faithfully served on the Episcopal Church Vestry and was a longtime member of the Baggs Cemetery Board.
He was preceded in death by his parents, brothers Clayton and Roy, and sister Ora. He was also preceded by half-brothers Andrew, Walter, Henry, Ralph and Orville, and half-sisters Mary, Lucy and Leila.
Lee is survived by his devoted wife of 64 years, Donna; children Virgil (Sharon), of Moorhead, Minn., Danyne (Rick) Six, of Worland, Wyo., and Susan (David) Wilkinson, of Tucson, Ariz.; grandchildren Randal (Pepper) Six, Kirsten Jons, Julie (Brian) Livermore, Laura (Tony) McCoy, David (Bonnie) Jons, Amy Fowler, Nathan (Erin) Jons and Jessica (Scott) Barker; 14 great-grandchildren, and two more soon to join the family.
A memorial service was Saturday, June 18, 2011, at the Baggs school multi-purpose room. Interment of cremated remains was at the Baggs Cemetery.
Those wishing to donate, memorials may be made in Lee's name to Noyes Clinic Home Health, P.O. Box 307, Baggs, Wyo., 82321.
Grant Mortuary in Craig assisted the family with arrangements.