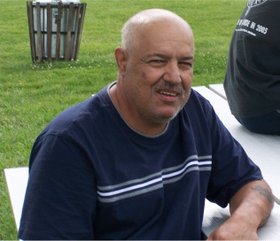 Rickey John Faccenetti, of Craig, died Sunday, June 5, 2011, after a courageous battle with cancer.
Rick graduated from Carbon High School in 1973. He was a coal miner, an over-the-road truck driver and at age 24, was the youngest union president of Deer Creek Mine Local Union 1769.
His last working years were spent as a lumber salesman in Steamboat Springs.
He loved spending summers with his grandchildren and family. Rick always had a heart for God and near the end of his life made a commitment to Jesus Christ as his Lord and Savior. He was baptized along with his wife and it was his greatest desire to be able to explain to others what Jesus had done in his life.
Rick was preceded in death by his parents, Carlo and Hazel Faccenetti.
He is survived by his wife and best friend, Tracy Faccenetti; children Gina Dee Matthews, Rick Carlo Faccenetti and Kim Clay Faccenetti; brother Don Lipparella and wife Donna; sisters Barbara Gale and husband Dwayne, and Carla Dixon.
He is also survived by grandchildren Marlena, Tyler, Kalila, Jannetje, Virginia, Carlo, Coda, Tabor, Caitlin, Hazel, Evan, Frankie, Bailey and Christy; several nieces and nephews; and cousins Bonnie and Jeanine.
In lieu of flowers, gifts may be made to Craig Christian Church.
A memorial service took place Saturday, June 11, 2011, at Craig Christian Church.