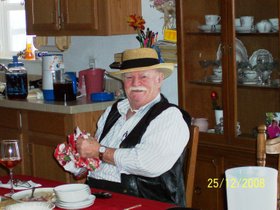 Hugh E. Self, 83, of Craig and formerly of LaPlata, Mo., died Friday, May 6, 2011, at his residence surrounded by his loving family.
Hugh was born Christmas Day in 1927, in Green Castle, Mo., the son of James Franklin and Diona Elizabeth (Schott) Self. On Oct. 31, 1952, he was united in marriage to Shirley Elaine Chadwick in LaPlata.
He was preceded in death by his parents; brothers Leslie, Glen, Lloyd, Junior and Bill; sister Betty; sisters-in-law Louise and Ella Self; brother-in-law Norris Stackhouse; and father-in-law and mother-in-law Lloyd and Marie Chadwick.
Hugh is survived by his wife of 58 years; son Blaine; son Laine and wife Shirley; daughter Diona and husband Mark Barber; son Leslie Chad; adopted son Bob and wife Lena Mounce; grandchildren Tara Panevics, Kele and Brooklyn Barber, Amber Cooper, Jessie and Deja Blankenship, and Liam, Jonathan James and Galataya Mounce; great-grandchildren Shay and Nathan Cooper, Tiyana Henry and Jayah Craig; brother Gary and wife Anita; sister-in-law Mildred Self; and several nieces and nephews.
Losing his father at an early age, Hugh began work at 10 years old at Belt's Wool and Fur sewing burlap bags.
He left home to work at Grumond Aircraft in Kansas City, sending money back to his mother to help support the family.
He joined the Navy at 17 and served his country in World War II aboard the U.S.S Eldorado. He was honorably discharged in 1948 as Quartermaster Third Class. He was also awarded four medals: the World War II victory medal, China Service medal, Navy Occupation medal, and the Good Conduct medal.
After marriage, he traveled to Colorado, prospecting for uranium, and finally settling in Craig. He worked for Heintz Plumbing for a short time and joined the Craig Police Department in 1962. He and Elaine also ran the Travotel Motel in Craig in the 1960s.
Hugh was an honorable officer who loved helping and protecting his community.
He served 20 years and was the first officer to retire from the Craig Police Department.
He was recognized by the Colorado State Senate with an award by Sen. Sam Zachem.
He was a member of the Craig I.O.O.F. and the Craig Chapter of the VFW.
Hugh loved to hunt, fish and go camping. He took pleasure in motorcycles, radio controlled airplanes and wood working. He was always willing to help anyone with a problem or offer words of wisdom. He deeply loved his family and will be sadly missed by them.
A funeral service was held Tuesday, May 10, 2011, at Yampa Valley Baptist, with final services in LaPlata, Mo.
Burial with full military honors took place in LaPlata.