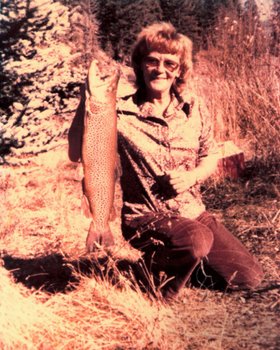 Alma B. "Dinky" Tucker, of Craig, died Friday, May 20, 2011, at The Memorial Hospital. She was 85.
Dinky was born Aug. 27, 1925, in Salem, N.J., the daughter of James and Anna (Plumer) Baker.
She was raised in New Jersey until she was 19, then moving to Denver and eventually to Craig in 1946 or 1947.
Dinky lived in various other places, including Grand Junction, Carbondale and Dove Creek, and Apache Junction, Ariz., before returning to Craig a year ago.
Dinky was married to Robert E. "Bib" Tucker, and they became the parents of two boys.
They were later divorced. Dinky then became the companion of Jerry Almber, whom she was with for more than 30 years.
Dinky worked as a bartender/ owner of the Mode O' Day dress shop in Craig, and as a maid and eventually maid superintendent at Snowmass at Aspen. 
he enjoyed fishing, hunting, skiing, shooting pool, playing shuffleboard, riding bikes, sewing and making dolls.  She was a member of the Ladies Auxiliary of the Veterans of Foreign Wars. 
She is survived by her son, Bruce Wood, of Craig; grandchildren Darin and his wife Kari Roush, of Jensen, Utah, and Kellie Crawford, of Meeker; and great-grandchildren Brett Roush and Kami Manning, both of Jensen, Utah.
She was preceded in death by her parents; brother Jim Baker; sons Robert E. "Bobby" Tucker, Jr., and Brett Tucker; and husband Jerry Almber.
She loved her boys and worked very hard to take care of them.  Her boys never went without. Mom was great, the best and we loved her and will miss her very much.
Take care of Mom, boys, I miss you all.
Cremation has taken place and a memorial service was
Thursday, May 26, 2011, at The Grant Mortuary Chapel with Mervin Johnson officiating.
Interment of her remains followed in the Craig Cemetery.