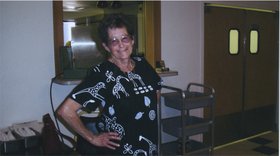 Sara Jane Matheson, a longtime Craig resident, died Thursday, June 23, 2011, after a long illness. She was 81.
Sara was born in Tutwiler, Miss., where she grew up with her three brothers and two sisters, all of whom have passed on.
Sara was the beloved mother of four children: Elaine Powell, of Dallas; Deborah White, of Grand Junction; Clyde Crocker, of Dallas; and Stephanie Kopsa, of Craig.
She had five grandchildren: Kevin White, of Victoria, Texas; James Patin, of Galveston, Texas; Wendy Powell, of Kingston, Ariz.; Kyle Kopsa, of Craig; and Conner Copsa, of Craig.
She also had 10 great-grandchildren.
Many who knew Sara would tell you she lived her life to help others, and she was always full of laughter and life.
Her children were her greatest love, as well as her love for the great outdoors. She loved to work in her garden.
Many days, Sara and her children were on a river or lake, and they would fish and tell stories that made them all laugh.
Sara also loved to play pool, and she was a hunter in her younger years.
Sara was involved with the Veterans of Foreign Wars organization, and she had a lifetime membership in the Ladies Auxiliary in Craig and Grand Junction.
Sara's children will have a memorial for her at Freeman Reservoir, one of the family's favorite places.
The date is pending, but it will take place in September. The family would like everyone who can attend to visit, and help celebrate her life.
Sara was a brave, giving, compassionate, unique woman who will be greatly missed.
Her family takes comfort in knowing that Jesus was her Lord and Savior.