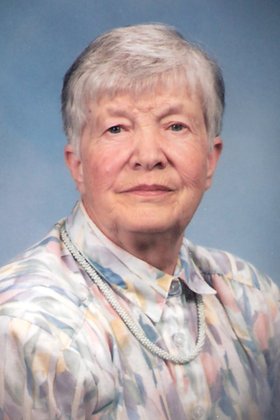 Ruth Margaret Wright Seick was born March 29, 1925, in Meeker.
She was the fifth child of Howard McClellan Wright and Hildur Louise Johnson Wright. The story goes that her mother was having trouble carrying this baby to full term.
The mama and the unborn baby went to Meeker to stay for a month or so before the due date. They stayed with a lady on Water Street in her home, and there the baby was born.
When Ruth was 10 days old, her father came for her and the mama with a team and sled and the long ride back to Morapas Creek, where they homesteaded.
Ruth died Thursday, Jan. 20, 2011, at Pioneer Medical Center in Meeker. Her daughter and son were at her side.
She grew up on the original Wright homestead and attended school at the one-room schoolhouse on Morapas until she was 7 years old.
She rode a horse two miles to school every day with her brother and sisters. Her family then moved to Craig, where she completed her schooling. She graduated from Craig High School with the class of 1944.
Ruth attended and graduated from Cosmetology School in Ogden, Utah, in 1945.
After she graduated, she received a phone call from a guy in Craig. His name was Don Seick, and he asked her to come back to Craig. The rest is history. They were married July 15, 1945, in Craig. They celebrated their 65th wedding anniversary in 2010. To this union, two children were born, LaDawn Lea and Michael Edward.
She walked hand in hand with her husband through his trucking, farming and other ventures. She truly was a farmer's wife and she knew the seasons. Yes, even the seasons of life.
Even after she retired from Mountain States Telephone Company after 17 years of service as an operator, she and Don went back to farming on the Jack Rabbit ranch.
Ruth was a quiet and compassionate woman and was the matriarch of her family. She was all about family and Jesus. She had the faith and was a giant of a little woman. Her family loved, respected and trusted her.
She was a member of The First Christian Church since 1946, and a member of Al-Anon for 52 years. She knew where her help came from. And she valued her friends.
She was preceded in death by her husband, Don, who died Nov. 20, 2010; parents Howard and Louise; brothers Sonny, Dick and Bob Wright; sisters Dorothy Newsom, Grace Lemmon and Betty More; brothers-in-law Edward, John and Milt Seick, Frost Newsom, Al Lemmon and Buster More; and sister-in-law Alvina Seick.
She is survived by her daughter, LaDawn (Glenn) Sexton, of Craig; son Michael (Denise) Seick, of Craig; brother-in-law Wayne Seick, of Mesquite, Nev.; sisters-in-law Hazel Seick, of Scotts Valley, Calif., Maudeen Wright, of Grand Junction, and Louise Wright, of Walla Walla, Wash.; grandchildren Jim Gumber, of Craig, Tobi (Frank) Chacon, of Craig, Christopher (Lindsay) Seick, of Midvale, Utah, Aaric Seick, of Meeker, and Brandon Seick, of Craig; great-grandchildren Javen, Reilley, Brooke and Joshua Gumber, Marlee, Isaac, and Jerod Chacon, and Andrew Sexton, all of Craig; and numerous nieces and nephews.
A private service for Ruth took place Jan. 30, 2011, at the Craig Fairview Cemetery.
LaDawn Sexton gave her mother's eulogy and memories were given by her loving family.
At this time, interment of the cremated remains of both Don and Ruth were laid to rest side by side.
Honorary pallbearers were her grandsons, Jim Gumber, Aaric Seick, Javen Gumber, Frank Chacon, Brandon Seick, Jerod Chacon, Christopher Seick, Isaac Chacon and Joshua Gumber.
A luncheon and sharing time followed at her daughter's home.
Ruth was a loved daughter, sister, wife, mother, grandmother and aunt. She will be greatly missed by all, and she was loved deeply.