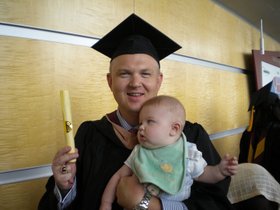 Robert Bruce Told was born Nov. 26, 1976, to Tom and Mollie Told at the old The Memorial Hospital in Craig.
Tom and Mollie had lost two boys before his birth and they would lose two after he was born. This fact made his family feel he was someone very special.
He also was one of the last babies delivered by the popular Craig physician Raymond G. Witham. Dr. Witham was Tom's distinguished partner and mentor in the Craig Medical Center, and always had a special feeling for Rob.
He was named Robert Bruce in honor of some of the Told's dearest friends, the Bruce Seely family, but also for the persistent Scottish leader Robert Bruce, who would not give up a cause, even in the face of numerous failures.
The Told family enjoyed the outdoors and farming, and Robert was in the thick of it. He had his own horse, saddle, chaps and spurs.
In the fall, he was at his family's side astride his faithful horse, Whitey, dressed in blaze orange. In the summer, he tended his show lambs and even the chickens and turkeys.
He was a particular target of Brooster the Rooster, a self-ordained attack chicken who delighted in stalking Rob and jumping on his back and spurring him like a rodeo horse.
He learned to drive the tractor and inherited his Grandpa Told's skill of being able to make irrigation water run uphill.
He was proud of his hay crops and spent many hot summer days in the hay barn enjoying wonderful meals prepared by his mother for the family haying crew.
He loved 4-H and FFA, and became a master ag mechanic, building trailers and fixing machinery. He learned to shear sheep and show them, as well.
He loved the county fair and always participated in all the activities there.
It was at the fair that he would meet a pretty little girl his father had delivered who would later become his first wife. They would go on to have two wonderful children, Triston Nelson Told and Kessandra Munn Told.
The two brought great joy into his life.
Robert loved his red and white truck, and delighted in outfitting it with all the latest gadgets.
With his cowboy hat on, a gun rack and a dog in the back, he looked like a typical western Colorado rancher.
Rob would try his hand at rodeo, and Tom and Mollie made sure he stayed with their orthopedic surgeon friend while he went to bull-riding school just in case he might be needed.
Luckily, he heeded the advice of Hugh Seeley that if your entry fees for bull riding contests were greater than your winnings, you had better pick another sport.
Robert would attend college in Utah before serving a very successful mission to Atlanta, Ga.
Robert learned to love pork crackles, fried ochre and boiled peanuts. The antebellum south was a wonderful adventure for him, and he loved the people.
Robbie would turn his passion for building into a bachelor's degree in construction management from Utah Valley University in Orem, Utah.
He received practical knowledge about the building and plumbing trades from his uncles in Utah, as well.
This skill would serve him well as one of the managers of Stocks building supply in Alamosa.
However, the downturn in the housing market brought an end to his store.
After the end of his first marriage, feeling saddened snd shaken, but far from beaten, he would turn his passion and energy towards his children and education.
Robbie then met Elisa Helena Alvim, who was a graduate student in New York. Elisa had studied psychology in her native Brazil and also in Vancouver, Canada, and was finishing her master's in social work at Columbia University.
She broadened his horizons on education and introduced him to life at an Ivy League university.
The two would wed in New York and later be blessed with a beautiful son, Edward Robert, who would be born in Elisa's hometown of Belo Horizonte, Brazil.
During that same year, Rob graduated with a master's degree in international business administration from the University of Phoenix.
At the time of Robert's death, the family had moved to Houston.
Robert was an in-home services consultant at Home Depot. Elisa is currently employed as a dialysis social worker at Fresenius Medical Care and as an in-patient therapist at West Oaks Hospital.
Robert died Tuesday, Jan. 18, 2011, in Houston. A service took place Saturday, Jan. 22, 2011, at The Center of Craig.