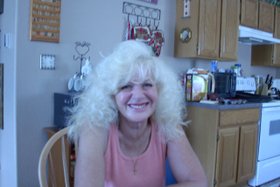 Barbara Ann (Maxson) Silman, of Palisade, died Jan. 12, 2011. She was 67.
Barbara was born Sept. 3, 1943. She was a beloved mother, sister, and grandmother.
Barbara was a kind soul who loved crafts, antiques, working with the elderly and those underserved, and spending time with friends and family. She touched many lives with her unconditional love and will be sorely missed by all who knew her.
Barbara is survived by daughters Jennifer Maxson and Heather (Travis) Portenier, of Grand Junction, and Angela (James) Petree, of Craig; grandchildren Cierra Maxson, Karly Ogburn, Kamron Portenier, Hunter and Jackson Petree; sisters Elsie Palomares and Melinda Stemper; and brother Robert Silman, of California.
A services will take place at 1 p.m. Saturday, Jan. 22, 2011, at The Journey at First Baptist in Craig, 1150 W. Ninth Street.
Memorial contributions can be sent to Heather Portenier, 516 Bowstring Dr., Clifton, CO 81520.