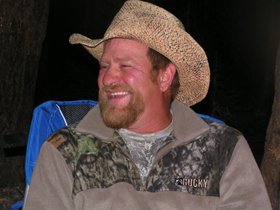 James D. Weber, Sr., was born Feb. 12, 1963, in Craig. He died Saturday, Dec. 25, 2010, near Maybell. His parents are Milton (Pat) Weber and Bonnie Weber.
Jim spent his childhood and adult life tearing around the hills of Moffat County. There was not one place in the county that he didn't know like the back of his hand.
On July 28, 1982, Jim married his high school sweetheart, Jeana Zimmerman. When he left this earth, they had been married for 28-and-a-half years and together for 30 years.
Jim was father and hero to three sons, James, Jr., Tyrell, and Levi. He taught his sons just about everything he knew about hunting, fishing, trapping and how to fix things. He taught them that when you found a good fishing hole or hunting spot, you didn't take anyone there with you so they wouldn't know where the secret spot was.
Jim was grandfather to three children, Kayla, Cheyanne and Koy. He was soon to add another granddaughter in March 2011. He called them his babies and he dearly loved being called Papa. He would chase them around the living room in his home, playing grizzly bear.
Cheyanne would run and scream and Koy would just turn around and shoot him with his finger.
He would have liked nothing better than to have them all come lived with him so they could play every day.
Jim and his family spent about every weekend doing something together, whether it was camping, hunting or all five of them on one 4-wheeler. They traveled all over the country, taking the boys to wrestling tournaments.
Jim and Jeana loved to go to Alaska to fish. Jim especially liked Homer and the Homer fishing hole. That is where he learned the art of combat fishing.
You would have to experience it to know what it was. He learned this from little Russian kids. They took right to him, probably because with his red hair and beard he looked just like all the other Russians, although he didn't understand a word they said. He and Jeana were planning on buying some property in Alaska to enjoy retirement.
Jim was talented in so many ways. He could carve out of wood or antlers or whatever else he could find. He made hunting knives out of old files and rasps with antler handles. He made his own predator calls out of wood and plastic resin. His success from these came from winning predator-calling contests using his own handmade calls. He was also an excellent cook. He could grill or smoke any type of meat there was. He even had his own homemade "Weber" smoker.
Jim is preceded in death by both sets of grandparents; brother Daniel; and uncle Dean Bollinger.
He is survived by his wife, Jeana; sons Jimmy (Lonna), Ty (Kelly) and Levi; mother Bonnie Weber; father Pat Weber; sisters Patti Weber, Karen (Troy) Flannery, Angel (Dallas Cook) Weber, and Carmi (Joseph) Geller; grandchildren Kayla, Cheyanne and Koy; and numerous nieces, nephews and many friends.
He will be missed by so many people. Hopefully, him and Dan are with Gramps and are checking out heaven's hunting and fishing grounds.
Memorial services were Thursday, Dec. 30, 2010, at The Journey at First Baptist Church with Daniel Shaffer officiating. Wanda Brown sang "The Old Rugged Cross" and "Heaven Must of Needed a Hero," accompanied by Anne Carr. Interment followed in the Pagoda Cemetery.