1921 - December 25, 2010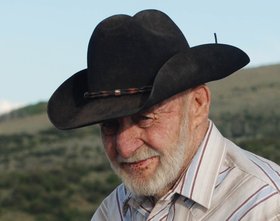 Lifetime Little Snake River resident George Ralph Salisbury Jr. died at his home on the Ladder Ranch on Dec. 25, 2010.
George was born in that home March 7, 1921, to George and Emma Terrill Salisbury. His grandparents all homesteaded on the same landscape, and he said when he was growing up, he had 21 first cousins in the community. He attended schools in the area and graduated from Rawlins High School in 1937 at the age of 16.
George received a Bachelor of Science in Forestry and Range Management from Colorado State University in 1941. He said his parents sent him to college to find a good wife who was not related. After graduation, he married Laura Eleanor Kinne in Riverton, Wyo.
George briefly worked for the Taylor Grazing Service but was soon called into action in the U.S. Army. He served as commander of Battery C, 399th Armored Field Artillery Battalion, 8th Armored Division, under George Patton in the European Theatre. He achieved the rank of major and was awarded the Bronze Star and a Purple Heart.
George returned to Laura and the ranch in 1945. He was a stockman, raising both cattle and sheep. He valued land management and took equal pride in healthy rangelands and fisheries.
George and Laura had three children, George III, Charlotte and Sharon. He offered unconditional love, wisdom and guidance.
He served his community and state in many capacities, including 20 years as a Carbon County commissioner and 13 years as a representative to the Wyoming Legislature. He helped craft landmark legislation, including the severance taxes that fund Wyoming government today, and rural health care legislation. He was a water buffalo and served on the Select Water Committee. His efforts were key in the development of the High Savery Dam, which delivers water to Little Snake River irrigators.
He was president of the Wyoming Board of Agriculture and was inducted into the Wyoming Agricultural Hall of Fame in 2009. He was one of only four honorary lifetime members of the Wyoming Stock Growers Association. He was also a longtime member of the Wyoming Wool Growers Association.
George was the third generation on his family's ranch, and he was proud that three more generations live on that ranch today. He helped place conservation easements on the mountain ranchlands, ensuring that they will remain intact and in agricultural production.
Working with youth was important to George, and he was active with 4-H and FFA, along with Laura. George was the deacon of St. Paul's Episcopal Parish in Dixon, Wyo.
George always was a long-term thinker.
He is survived by his daughter, Sharon Salisbury O'Toole and her husband, Patrick, of Savery; his grandchildren Sherri S. Mathaller (Rob), of High River, Canada; Joseph R. Salisbury, of Sacramento, Calif.; Meghan O. Lally (Brian), of Savery; Christian Gros, of Rio de Janeiro, Brazil; Bridget O'Toole (Chris Abel), of Denver; and Patrick Eamon O'Toole (Megan), of Savery.
He was the doting great-grandfather of Matthew Marth­aller, of High River, Canada; and Siobhan Lally, Seamus Lally, Maeve Lally and Patrick McCoy O'Toole of the family ranch.
George was predeceased by his beloved wife of 63 years, Laura; his parents, brother Earl DeVitt Salisbury, son George Robert Salisbury and daughter Charlotte Emma Salisbury.
George's funeral will be held at the Little Snake River Valley School at 11 a.m. Jan. 3. The Revs. Doug Wasinger and Father Warren Murphy will officiate.
Donations in George's memory may be made to the Carbon County 4-H Foundation, P.O. Box 280, Rawlins, WY 82301; St. Paul's Episcopal Church, P.O. Box 60, Dixon, WY 82323; or the Noyes Clinic Home Health Service, P.O. Box 307, Baggs, WY 82321.