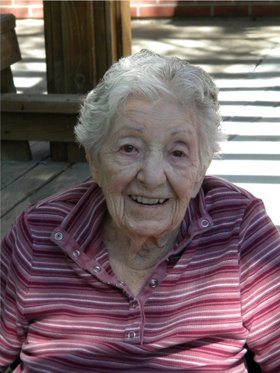 Lois O. Schoeber, 101, died Friday, Feb. 11, 2011, at the East Morgan County Hospital in Brush. She was born Aug. 31, 1909, in Naponee, Neb.
The Morse family homesteaded at Great Divide.
Lois was a pioneer farm wife. She helped her family on the family farm, delivered mail on horseback, worked the fields with team horses, and accepted the multitude of changes in her lifetime with an open mind.
Lois married Sidney Schoeber on July 27, 1947.
She loved music, and playing the saxophone, piano and organ for many community functions. She enjoyed working with horses, oil painting, painting scenery pictures, fishing and spending time with her family.
She was a member of the Worldwide Church of God. Lois moved to Morgan County in 1976 from Clifton, to be closer to her family.
Survivors include her daughter, Mary Ellen Miller, of Portland, Ore.; grandchildren Laura Merrill, Lois Sparrowhawk, Jim Weaver, Kathleen Loose, Jean Pedotto, Bill Ruhl, Mike Miller, Doug Miller, Steve Miller and David Popham; and numerous great-grandchildren and great-great grandchildren.
She was preceded in death by her husband; daughters Alice Weaver and Iola Fae Segelke; her parents; and 2 1/2-sisters.
A funeral service will be at 1 p.m. today at the Heer & Dahl Mortuary Chapel in Brush.
Interment will follow at the Brush Memorial Cemetery. Visitation will be from 11 a.m. until service time.
Friends who wish may make memorial gifts to the Eben Ezer Lutheran Care Center in care of Heer & Dahl Mortuaries.