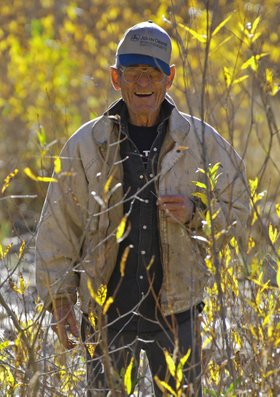 Longtime Little Snake River Valley resident Donald Lee Ogg died Friday, Jan. 7, 2011, at The Memorial Hospital in Craig.
Don will be missed for his honesty, loyalty and unfailingly positive outlook on life.  He was famous for his whistle.
He was born May 11, 1927, in Preston, Neb., to Orvel and Helen Ogg. The family moved to Slater Creek, in the Little Snake River Valley, when Don was 10. There, he met his future wife, May Emma Phillips. She was 7 and told her mother that she was going to marry Don someday.
He helped support his family from an early age, and went to work in the mines near Hayden at age 14.
Don served in the U.S. Army in Korea from 1945 to 1947 at the close of World War II.  He didn't like boats and recounted that on the troop ship returning home, they encountered a storm. 
"See that mountain over there," he said, pointing to Squaw Mountain. "The waves were that high."
Upon his return from Korea, he and May were married Aug. 23, 1948, in Craig. Don and May had three children.
In April 1952, Don began his decades-long work at the Ladder Ranch on Battle Creek.  He was the chief farmer there, as well as mechanic, stockman and jack-of-all-trades. 
Don's gift was understanding the relationship between soil, plants and the machinery that harvests crops. He knew the farming landscape on that ranch better than anyone before or since.
He spent several years working for his brother-in-law, Victor Phillips, as a roofer in Billings, Mont.
Upon "retirement," Don returned to the Ladder Ranch, where he continued to work until the age of 81.
Don was a longtime member of the Odd Fellows and the Veterans of Foreign Wars.
When speaking about his life, Don told a friend, "I wouldn't change a thing," and "I owe no man."
Don is survived by his wife, May Emma Ogg; daughter Diane (Jerry) Bartholome; son Gary; grandchildren Sabrina (Marion) Brown, J.D. Gardner, Courtney (Julie) Lee Ogg, Chad (Ceji) Ogg and Amanda Ogg; and great-grandchildren Tadasie Brown, Michael and Jaden Ogg, and Haley Ogg.  His sister, Anna Pearl Eads, also survives.
He is also survived by many dear friends, including Neil and Jill McCandless and brother-in-law Mike Kawcak. His Ladder Ranch family includes Patrick and Sharon O'Toole, Meghan Lally, Bridget O'Toole, and Eamon O'Toole.
Don was preceded in death by his parents, sister Colleen Kawcak and son Donald.
A service will be held at a later date.
Donations may be sent to the Noyes Health Care Center, P.O. Box 307, Baggs, Wyo., 82332, or the Baggs Senior Center, P.O. Box 245, Baggs, Wyo., 82332.