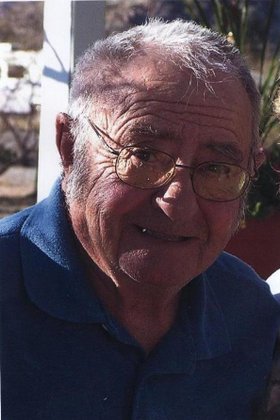 Richard E. (Dick) Bower died Thursday, Jan. 20, 2011, at St. Mary's Hospital in Grand Junction, surrounded by his loving family and friends.
He was 78.
Dick was born Nov. 21, 1932, in Greystone, to Robert and Gladys Bower. He was the fourth of five siblings, Robert, Nancy May, Mary Springer and Bill.
He graduated from Moffat County High School in 1949, and during school he met and fell in love with Maryann Keefauver. They were married in 1952 and to this union they had four children, Cindy, Connie, Bud and Joe.
Retired from the Moffat County Road and Bridge Department as a mechanic, Dick loved spending his time at the cabin in Wilderness Ranch and at their home in Congress, Ariz. He was an outdoorsman who loved hunting and fishing when he had to provide for his family. After that, he loved just being in nature and watching the animals.
He is survived by his wife, Maryann, and children Cindy Padon, of Craig, Connie Radcliff, of Grand Junction, Bud (Amy) Bower, of Craig, and Joe (Colleen) Bower, of Craig; grandchildren Brandon (Hayley) Bower, Alicia (Jeremiah) Noland, Josh (Rachel) Bower, Richard Padon, Melissa (Robert) Bamford, Joseph (Lauren) Padon, Christine Padon, Katlyne (Jesse) Bartolo, Kacey Radcliff, and Colton Radcliff; great-grandchildren Max Noland, Alexus Noland, Reagen Bower, Keylee Bower, Jameson Bower, Brody Bower, Braxton Bower, and Evan Bamford.
A family service will take place this summer at the cabin.