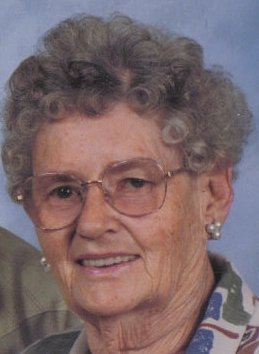 Beulah Carmen Kline, a longtime Craig resident, died on Thursday, April 7, 2011, at her home following a brief illness. She was 85.
Beulah was born on Nov. 24, 1925, in Utica, Kan., the daughter of Bert C. and Lola Eunice (McBee) Acuff. 
She was raised and attended school in Utica until she was 14, when her family moved to Cedaredge. 
Beulah continued her schooling there, graduating from Cedaredge High School with the class of 1944. 
Beulah married Earl Ernest Kline on June 18, 1944, in Cedaredge. They made their home in Craig and became the parents of three children.
Beulah was a homemaker and ranch wife, and enjoyed collecting bottles, gardening and watching birds, especially hummingbirds.
In her earlier years she worked as a nurse's aid and cook at the Moffat Rest Home for more than 15 years.
Beulah was very active in the community as a member of the Home Demonstration Club, AARP and the Last Frontier Group, and was a volunteer or Pink Lady at The Memorial Hospital for more than 30 years and volunteered for the local hospice.
She was a longtime member of First Baptist Church, now The Journey at First Baptist, and was a member of the Maranatha Ladies and the women's group there, as well as a Sunday school teacher for many years.
Beulah is survived by her husband of almost 67 years, Earl Kline, of Craig; daughter Sheila and husband Rex Evans, of Casper, Wyo.; son Randy and his wife, Luann, of Craig; grandchildren Sheri Backhaus and her husband, Dan, Mark Evans and his wife, Melissa, Jill Kellum and her husband, Chris, Travis Evans and his wife, Sara, Karl Kline and his wife, Traci, Brett Kline and his wife, Meagan, and Alayna Kline; 11 great-grandchildren and one great-great grandson, Grayson Perry; sisters Gayle Griffin, of Clifton, and Carlene Huffman and her husband, Doug, of Hutchinson, Kan.; and numerous cousins, nieces and nephews.
Beulah was preceded in death by her parents, daughter Gayle and grandson Donald Scott Silver.
A memorial service was held Tuesday, April 12, 2011, at The Journey at First Baptist with the Rev. Leonard Browning officiating.
Honorary pallbearers were her grandsons Mark and Travis Evans, and Karl and Brett Kline, as well as the members of The Memorial Hospital Auxiliary "Pink Ladies."
Memorial donations may be made to The Journey at First Baptist Church or The Memorial Hospital Auxiliary, both in care of Grant Mortuary.