1923 - March 27, 2011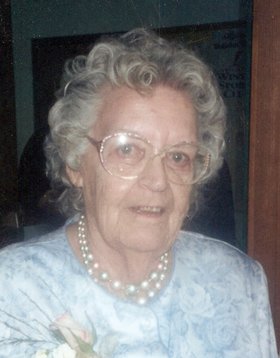 Thelma Jewel Kirby was born June 17, 1923, in Delta, Ill., to Walter and Margaret Ann Foster West. She died Sunday, March 27, 2011.
Thelma Kirby married Sydney O. Stuthridge on Oct. 8, 1951.
They had two daughters. Sydney died in 1958 in a work accident.
Thelma later moved to Colorado and married Harold C. Kirby on Nov. 17, 1966. He died in 1982.
Thelma had various jobs in her lifetime, but her favorite was cooking at the McCoy school. She loved the kids and loved the community.
She had several hobbies, but one she always went to was reading. She also loved being around friends and family. She lived in Colorado until July 2010, when she moved back home to Illinois. She passed away with family at her bedside.
She is survived by daughters, Karen (Ray) Melhuish and Debbie (Harry) McWilliams; stepsons Phil Kirby, Joe Kirby, Kirk Kirby and Keith Stuthridge; grandchildren Suprena (Mike) Simpson and Tyler (Megan) McWilliams; and great-grandchildren Morgan Nunn, Kaden Nunn, Abigail McWilliams and Myles McWilliams.
She was preceded in death by her husbands; sisters Marie Cambell, Mary Davis and Josephine Gibson; and her parents, Walter and Margeret Ann Foster West.
Cremation took place at Jones Funeral Home in Tamms, Ill. She had requested that no services take
place.