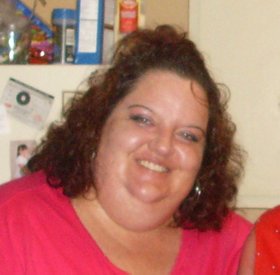 Rhonda Kay (Burl) Armstrong, of Denver, died in her sleep from natural causes Sept. 6, 2010, in Parker. She was 43.
Rhonda was born May 25, 1967, in Boulder to Gordon Ross and Beatrice Sue Burl.
She attended Moffat County High School and Colorado Northwestern Community College in Craig. She worked as a cosmetologist since 2003.
Her favorite activities were arts and crafts, crocheting, and spending time with her family.
She was preceded in death by her parents, Gordon and Sue Burl.
She is survived by Jason Armstrong; daughter Bailey Brianne Armstrong; son Aaron Ross Burl; sisters Connie Ruff, Lori Burl and Paula Haughey; and grandchildren Aadon Burl and Bentley Burl.
A celebration of life is scheduled for 11 a.m. Saturday, Sept. 18, 2010, at Loudy-Simpson Park in Craig.