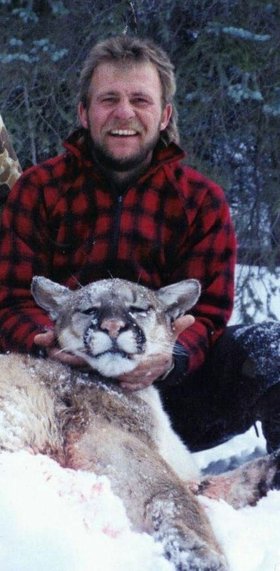 Daniel Lavern Weber was born June 30, 1965, to Pat and Bonnie Weber of Craig.
He died Aug. 27, 2010, in Meeker. Dan attended school in Moffat County and graduated from Moffat County High School in 1983. He grew up running the banks of the Yampa River and the mountains of Northwest Colorado, hunting, fishing and learning about wildlife.
Dan was the third of six siblings. His parents and all of his siblings continue to live in Craig, and were very close to Dan. Dan was a role model and best friend to his many nephews and nieces, and could always be counted on to help any of his family out with anything they might need.
On May 1, 2000, Dan married the love of his life, Vicki Jarrard. Together they had two children, Lexi Mae, 8, and Thomas, 4. His wife and children were his world, and the reason he got up in the morning and worked so hard every day.
Dan spent all of his free time with his family.
Dan and his family loved to hunt, travel, camp, boat and visit their friends and family members.
Dan also loved to cook, and was good in the kitchen, but his passion was smoking and barbecuing. Most weekends you could find him out behind his smoker or barbecue, perfecting his latest specialty, and then he would be on the phone, inviting friends and family over to sample the goods. He had a smile, tease and story for everyone.
Dan loved life and lived it to the fullest each day. He was most comfortable outdoors and was an avid hunter, trapper, fisherman and outfitter/guide for most of his life.
Dan guided hunters for most big-game species in Colorado, but mountain lions were his favorite big-game animal to hunt, study and observe.
Over the years, he owned hundreds of hounds, which he bought, sold and traded regularly to improve his pack. Two of his favorite hunting dogs were Belle and Amos. He was one of the best lion hunters this part of the country ever had or will have. A lot of people have said that he was born about 100 years too late.
Dan loved people and never met a stranger who wasn't soon a friend. He was loved by all who knew him. He had a huge heart, always a big smile accompanied by a large laugh and he would do anything he could to help someone out.
He was one of a kind. He was loved by many and will be dearly missed.
In recent years Dan started his own gravel crushing company, Hardrock Custom Crushing. He provided custom gravel crushing throughout Northwest Colorado and Utah. He was very proud of this business and its success.
Dan is survived by his wife, Vicki Weber; daughter Lexi Mae; son Thomas; granddaughter Jewell McPherson; parents Pat and Bonnie Weber; brother Jim (Jeana) Weber; sisters Patti Weber, Beth (Troy) Flannery, Angel (Dallas) Weber and Carmie (Joseph) Gellner; and many aunts, uncles, nieces, nephews, cousins and many friends.
Memorial donations may be made to a benefit fund for Dan's children at Yampa Valley Bank in Craig.