1993 - October 16, 2010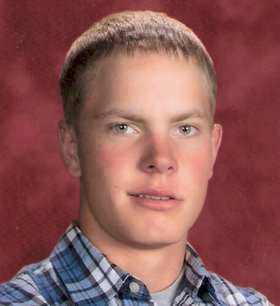 Russell Dakota Walsh, of Craig, was born Nov. 5, 1993, in Grand Junction. Russell died Oct. 16, 2010, after a car accident 20 miles northwest of Maybell.
Russell was doing what he loved at the time of his death. He was with his best friend doing what they liked to do best — spend time at his friend's ranch. He had a zest and love for life that kept him occupied and busy all the time.
He spent summers in Mon-
trose and Cimmaron at the family ranch with his grandparents and uncles, helping with irrigating, haying, taking care of the cows and running the track hoe.
He loved snowmobiling, riding four-wheelers, hunting, fishing, tying his own flies, camping, boating, and waterskiing. In the last year of his life, he was an avid archery shooter and had gone to the state competition in Pueblo with his teammates.
He was extremely excited about his first big game archery hunt, which he had done just a few weeks before his passing.
Russell loved anything that had to do with the outdoors, and most important to him was spending time with his family. He was idolized by his nieces.
Russell had plans to be an attorney, and was looking forward to helping those in need. He was very interested in citizen rights, and both the Colorado Constitution and the United States Constitution.
Russell was always looking to the future. He started many conversations with "I can't wait … "
His friends at school have all said how he was able to brighten the day with his infectious smile simply by walking into a room. The wit and humor he showed was continuous.
Russell was born to Christopher and Brenda (Collins) Walsh, of Craig.
He is survived by his parents, brothers Travis and Tom, and sister Sandra Walsh. He is also survived by grandparents Dallas and Pat Collins, of Montrose; grandmother Carol Oberly, of Clifton; and several cousins, nieces, nephews, aunts and uncles.
He was preceded in death by his great-grandparents, Russell and Lily Collins and, Rolla and Charlotte Knifer; and grandfathers Carl Oberly and Christopher G. Walsh.