1929 - September 28, 2010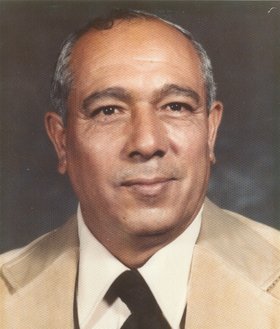 Nicholas Tony "Nick" Gonzales, 81, died Sept. 28, 2010, at his home in Durango.
A memorial service will take place at 1 p.m. Saturday, Oct. 23, 2010, at Christ the King Lutheran Church. A memorial service will be held in Craig, in the spring of 2011. Cremation will occur at Hood Mortuary Crematory in Durango.
Mr. Gonzales was born Sept. 10, 1929, in Mount Harris, the youngest of nine children born to Phillipe and Juanita (Ramirez) Gonzales.
He graduated May 20, 1948, from Hayden High School, where he played basketball, served as senior class president and participated in the U.S. Marine Corps Reserves.  
On April 7, 1950, he enlisted in the U.S. Navy and served as a crew member aboard the U.S.S. Tortuga LSD 26 during the Korean War, until his discharge on Feb. 10, 1954.
On January 22, 1955, he married  Josephine Gall, of Milner, in Hayden, whom he shared his life and family with for 46 years.
Shortly thereafter, he took a position as a radio dispatcher with the Colorado State Patrol in Craig, and graduated from a radio and television technician program that would set him on his career path.
In addition, he enlisted in the Army National Guard on April 8, 1963, and attained the rank of staff sergeant during his five years of service on the crew of a 105mm howitzer in the First Battalion, 157th Artillery Service Battery, until his discharge on April 7, 1968.
In 1969, he relocated his family to Durango to assume the position of senior radio dispatcher with the Colorado State Patrol, where he would remain to complete his illustrious radio dispatching career with 40 years of service.
He is fondly remembered for his professionalism and many contributions in communications, including participation in the development of the emergency call systems, by fellow law enforcement and emergency personnel, co-workers, and Coloradans, many of whom became valued lifelong friends.
Nick enjoyed spending time with friends and family, hunting, fishing, gardening, watching local soccer and football games, and being in the outdoors of Colorado.
He also enjoyed assisting with raising his grandchildren. Nick was extremely proud of his family and friends, his 40-year career with the Colorado State Patrol, and his adventurous military service. He is a member of the U.S.S. Tortuga LSD 26 Association.
He is survived by son John (Robin) Gonzales, of Durango; daughter Tracine (Dan) Bevans, of Torrington, Wyo.; son David (Melanie) Gonzales, of Durango; grandchildren Joshua, Teresa, Nicole, Seth, Lucas, Jacob, Rachel, Nicholas, Amber, Mathew, Alexander and Jonathan; sisters Ortencia (Cecil) Bettger, of Steamboat Springs, Mary Key, of Chicago, and Adelina Palma, of Craig; and numerous nieces and nephews. 
He was preceded in death by his parents; wife Josephine in May 2001; sister Elsie; and brothers John, Manuel, Vidal and Albert Gonzales.
Condolences may be sent to the Gonzales family at 1005 Oak Dr. – Florida Road, Durango, CO  81301-4422.  
Memorial contributions may be made to the Durango Youth Soccer Association, 862 Main Ave., Suite 203, Durango, CO 81301.