1921 - October 6, 2010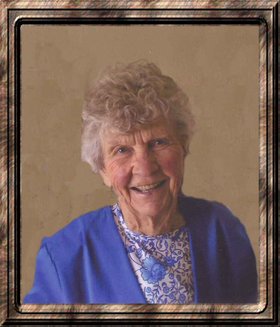 Lifetime Paradox resident Emma Katherine Proctor died Oct. 6, 2010, at St. Mary's Medical Center in Grand Junction. She was 89.
A funeral service honoring Emma's life took place Oct. 11, 2010, at the Community (Red Log) Church in Paradox, with Ted Swain officiating
Burial followed at the Paradox Cemetery, with graveside rites by Ron Steele.
Emma Katherine Swain was born to Steve and Margaretta (Childs) Swain on Jan. 22, 1921, in Paradox. She spent her childhood and attended schools in Paradox, and graduated from Montrose High School.
On June 1, 1940, Emma married Robert Monroe Proctor in Montrose. To this union, three children were born.
Emma and Robert shared 58 years of marriage. Robert died May 28, 1998, in Paradox.
Emma owned and operated, along with her husband, the Paradox Lumber Company for many years. She was also a substitute teacher and gave piano lessons to numerous students in the Paradox Valley.
In addition, Emma was a bookkeeper and secretary for Paradox Pipeline, librarian for the Paradox Library and a board member of the Paradox Cemetery.
Emma, a devoted wife, loving mother and grandmother, enjoyed playing the piano, teaching children, and she loved and cherished her family and friends.
Emma is survived by sons Gary Robert (Karon) Proctor, of Nucla, and Steven "Mark" (Judy) Proctor, of Craig; daughter, Charlene (Ken) Burnett, of Cedaredge; andsister Mae Maupin, of Grand Junction. She is also survived by nine grandchildren, numerous great-grandchildren and two great great-grandchildren.
Emma was preceded in death by her parents; husband Bob Proctor; brothers Steve Swain and Stanley Swain; sisters Lorna Snyder and Frances Garber; and grandchildren Kurt Walker and Cody Curtis.
In lieu of flowers, memorial contributions may be made in Emma's memory to the Paradox Ambulance Association, or to the Paradox Library in Paradox.