1954 - April 14, 2010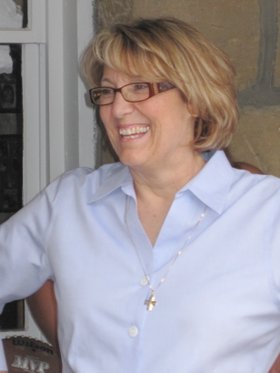 Marianna Mahleres Raftopoulos died April 14, 2010, at her home in Craig after an 11-year battle with Chronic Lymphocytic Leukemia.
She was surrounded by her loving family and a few of her closest friends.
Marianna was born May 23, 1954, to Nick and Helen Mahleres, in Grand Junction.
She spent her summers in Meeker on her father's sheep ranch and returned each fall to attend school in Grand Junction. 
She graduated from Grand Junction High School in 1972. She attended the University of Colorado, where she earned a bachelor's degree in journalism with a minor in marketing and was a member of the Pi Phi sorority.
After graduation, she was employed by the J.C. Penny Company as a merchandise buyer, and later was promoted to corporate executive and transferred to San Antonio.
On Dec. 11, 1983, Marianna married the love of her life, John Raftopoulos, of Craig. The ranching lifestyle and motherhood proved to be a full-time job as she helped with the many tasks involved in the life of ranching.
On July 4, 1985, their first child, son George, was born.  On Aug. 3, 1988, Mari Katherine Raftopoulos was born, and on Oct. 14, 1992, Angelo Raftopoulos entered their lives.
Yet, even with all this work, she sought out more challenges to satisfy her innate drive to achieve and be of service to her community.
 Marianna wore many hats in her lifetime.
Not only was she a rancher's wife and a devoted mother, she was also a well-respected politician and a credible businesswoman.
She was the greatest fan and never missed an athletic or school event.  She received the Woman of the Year award in 1994 for her remarkable accomplishments in both work and family, ability to inspire others and grace under these pressures. 
At that time, she was quoted as follows:
 "I want to be a part of a community with a strong health care system, a strong education system and a very established small business base which includes agriculture," she said. "Change is within our reach, but you have to participate in order to do it." 
She also said, "In my business and in my personnel life, I try to be honest and factual. In the end, honesty and facts will always win out."
She was true to her word, and was employed as a community relations director of The Memorial Hospital until the fall of 1996, when she was elected as the first woman commissioner of Moffat County.
She served two terms as a county commissioner. During her time as commissioner, she was instrumental in securing funding for the construction of the Moffat County Public Safety Center, and DSL service for Northwest Colorado.
After her second term as county commissioner, she continued her career aspirations as an oil and gas public relations consultant.
Even with her busy work schedule and constant meetings, Marianna always found time to give back.
She served on many boards and commissions, as she was a philanthropic member in not only this community, but also the state and nation.
She served the following organizations: the Moffat Tunnel Commission, president of Colorado Counties, Inc., chairwoman for the Republican Central Committee, Yampa Valley Partners board member, United Way vice president, Colorado Cattlemen Association — Children of the West, Craig/Moffat Economic Development Partnership, Memorial Health Foundation, Boys & Girls Club of Craig, The Memorial Hospital Foundation, chairwoman of the Colorado Wildlife Commission, and she was also a member of the transition team for Gov. Bill Owens and Gov. Bill Ritter.
Marianna will be dearly missed by her family and the community.
She is survived by her husband, John Raftopoulos; sons George and Angelo Raftopoulos; and daughter Mari Katherine Raftopoulos, all of Craig. She is also survived by her parents, Nick and Helen Mahleres, of Grand Junction; brother Harry (Claudia) Mahleres, and their children, Nick, Eleni and Noelle Mahleres, of Denver. 
Two services were held in her honor. A Trisagion service at Grant Morturary was followed by a funeral service at St. John's Greek Orthodox Church. Archimandrite Makarios Mannos, of Salt Lake City, and Reverend Protoprestbter Luke Uhl, of Denver, officiated.
Interment was at the Craig Cemetery.