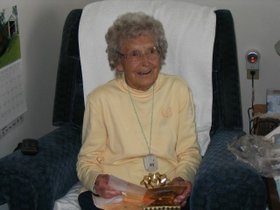 Lydia Rader had a remarkable 99 years of life. She died peacefully in her sleep March 19, 2010, at The Haven in Hayden.
She was born Jan. 9, 1911, to William B. Lunas and Christina Simbalenko in Minneapolis, Minn., the youngest of five children.
During her early years, her family lived in Minnesota, Florida, North Dakota and Colorado.
Lydia graduated from Center High School at 16 and completed the teachers program at Grand Junction State Junior College (now Mesa State College).
She taught at several rural schools in Rio Blanco and Moffat counties. In 1930, she married Joseph Jennings Rader.
They had two children: Christine Anne (born in 1940 and died before the age of 3) and Nancy Jo. Lydia's nephew, Bill Ostrom, lived with the family during his high school years.
Lydia and Joe bought a homestead to begin their ranching business in the Hamilton area.
They continued purchasing land parcels to expand their ranch. Their ranch produced cattle, sheep, hay and grain.
After Joe's death in 1961, Lydia continued operating the ranch for four years. Later, she sold the ranch to Pome and Glenda Camilletti and moved to Craig.
After Lydia left the ranch, she was involved in several careers including real estate sales and retail sales. Throughout her adult life, Lydia actively was involved in several organizations.
When the Northwest Colorado Visiting Nurse Association for Moffat and Routt counties was organized in the early 1960s, Lydia became a member and served as vice president of the board of directors in the early 1970s.
She was a member of the Hamilton School Board, Moffat County Cowbelles, Craig Christian Church, the philanthropic sorority, Epsilon Sigma Alpha, Alpha Tau Chapter, board of Supervisors for the Yampa Soil Conservation District, and a charter member of the Moffat County International Toastmistress Club.
Other activities included reading many books, working crossword puzzles daily and walking.
Lydia was a role model and inspiration for many people. She demonstrated excellent lifestyle habits, including physical fitness and healthy nutrition.
Her strong work ethic inspired family and friends. She told others they could achieve any dream if they worked hard enough.
Her family and friends will miss her strength, courage, love, and guidance.
Lydia is survived by her daughter, Nancy (Karl); grandchildren, Kris and Leah; nephews, Bill Ostrom, Sam Lunas, Larry Lunas, Les Lunas, Nick Rader and Hank Rader; and niece, Vera Morris.
The Northwest Colorado Visiting Nurse Association/hospice service and The Haven staff supported Lydia and her family at the end of her life.
Contributions will be accepted by Grant Mortuary in memory of Lydia Rader for any of the following organizations: The Haven, Northwest Colorado Visiting Nurse Association, or Craig Christian Church. Please send contributions to 621 Yampa Ave., Craig, 81625.