1911 - March 4, 2010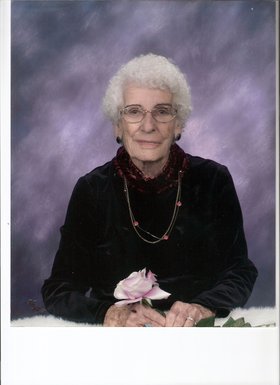 May McIntyre, 98, died March 4, 2010, at her home in Maybell, surrounded by family.
May was born May 21, 1911, in Sharon Springs, Kan. She was the youngest daughter of Henry and Blanche (Chisum) Steele. The family homesteaded north of Maybell in Fairview in 1917. May said her early talents were "carrying water and doing dishes."
May's father, Henry, was a schoolteacher and later school district superintendent, which influenced May throughout her life.
May and Rich McIntyre were married in 1934. May moved with Rich to his homestead north of Lay in the same year. May and Rich had five sons: Dick, John, Sam, Thomas and Marvin.
In 1937, May and Rich moved to the current McIntyre Ranch location in Maybell, where they raised their boys.
May was a ranch wife who enjoyed rodeos, dancing, baseball, fishing, hunting and most of all, her family and grandchildren. May was an avid card player, who wouldn't tolerate a cheat. She attended the first Moffat County Fair in Maybell in 1918 and every fair after.
After Rich's death in 1975, she traveled with her sister, Inez, to Hawaii, Paris, Australia, New Zealand and Alaska.
One of May's passions was teaching children to read. She spent many years volunteering at various schools in Moffat County, teaching children to read. She also spent many years volunteering at the Craig Chamber of Commerce and the Museum of Northwest Colorado.
May was active in the Congregational Church, the Maybell Women's Club and the Moffat County Cowbelles.
May is survived by two sons, John (Chris) McIntyre, of Wittmann, Ariz., and Sam (Georgia) McIntyre, of Maybell; 14 grandchildren; 33 great-grandchildren; and 16 great-great-grandchildren. May was preceded in death by her parents, husband Rich McIntyre, sisters Inez Reust and Gladys Solace, brother Sam Steele, and three sons, Thomas, Marvin and Dick.
A funeral service was March 10, 2010, at Craig Christian Church.
Memorial contributions may be made to the Moffat County 4-H Foundation, in care of Grant Mortuary, 621 Yampa Ave., Craig CO 81625.