1953 - March 17, 2010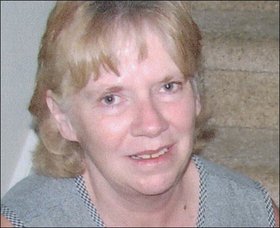 Janie Lyons-Mills, 56, of Fort Collins, died March 17, 2010, at her home.
A memorial service took place March 27, 2010, at Hayden Congregational Church, 202 E. Jefferson Ave., in Hayden. Pastor Janet Babish officiated.
A graveside service will be held at a later date.
Wilda Jane Lyons was born Oct. 1, 1953, in Englewood to Ralph and Anne Lyons. In 1971, she graduated from Englewood High School. She married William James Mills (Billy) on Dec. 28, 1977 in Hayden.
The couple raised their daughter, Tracy Mills, in Page, Ariz. Janie was a bus driver for the Page United School District for 10 years. In 1997, the couple moved to Fort Collins to be closer to family.
Janie recently was employed by Schrader's Country Store at the Ted's Place location.
She was preceded in death by her loving husband, Bill, of 24 years. Their reunion must be spectacular.
Janie is survived by her parents, Ralph and Anne Lyons, of Cedaredge; brothers, Ray, Paul, Dave, and Robbie Lyons; sister, Cindy Peterson; daughter, Tracy Hanley; grandchildren Kiera, Kirstin, and Kayla Hanley; and a great number of friends and family who will miss her very much.
Memorial contributions can be made to the Wilda Mills Memorial Fund in care of Bohlender Funeral Chapel, 121 W. Olive St., Fort Collins. To send condolences and view the complete obituary, visit bohlenderfuneralchapel.com.