1929 - March 2, 2010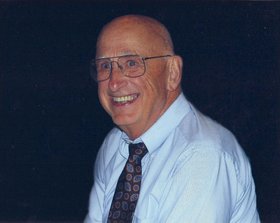 A funeral service for Bernard John Malburg Jr., M.D., 80, was March 6, 2010, at St. Ann's Catholic Church in Palisade.
The rosary was recited Friday at St. Ann's.
Dr. Malburg, a beloved husband, father, grandfather, brother, uncle, colleague and friend, died March 2, 2010, at the Hospice and Palliative Care of Western Colorado Inpatient Center in Grand Junction.
He had resided in Palisade for nearly seven years.
Born Oct. 10, 1929, in Chicago, to Bernard John Malburg and Lucille Marie Daleiden, Bernie was the second of six children. In 1956, he married Mary Ellen Mahar in Milwaukee; she preceded him in death in 1983.
In 1952, Dr. Malburg graduated from Quincy College, in Quincy, Ill., with a bachelor's degree in biological sciences, working the following year as a chemist for Baxter Laboratories in Chicago.
He attended Marquette School of Medicine (presently the University of Wisconsin School of Medicine) in Milwaukee, graduating with a doctor of medicine degree in 1957. He completed an internship in family practice at Saint Joseph Hospital in Denver, from 1957 to 1958.
He then completed residency training in obstetrics and gynecology at Little Company of Mary Hospital in Chicago, from 1958 to 1959. He completed a residency in family practice under Saint Joseph Hospital in Denver, and at Saint Mary's Hospital in Grand Junction, from 1959 to 1960.
Dr. Malburg was the first physician to train in family practice at Saint Mary's in a trial initiative.
The impact on patient care was so beneficial that the residency training program was instituted on an ongoing basis. From 1967 to 1968, Dr. Malburg completed a fellowship in sports medicine at the University of Wisconsin in Madison. Opening a private practice in 1960 in Denver, Dr. Malburg also provided student health care for the University of Denver and served as team physician for its athletic department.
Upon completion of the sports medicine fellowship, he accepted a position as athletic physician for Colorado State University in Fort Collins and also served as a student health doctor.
In 1972, Dr. Malburg was recruited and accepted a position as a family practice physician at Craig Medical Clinic in Craig, also serving as an attending physician at The Memorial Hospital. Recognizing the need for primary medical services in Hayden, Dr. Malburg opened a practice there in 1973, while continuing his attending at The Memorial Hospital.
He also provided part-time services at The Moffat Family Clinic in Craig for a period of time.
In 1989, Dr. Malburg accepted a position as clinic physician for Rose Medical Center in Denver, working in that capacity until he retired in December 1994.
Dr. Malburg's longest professional tenure was in the Craig and Hayden area in Northwest Colorado, and he came to love the beautiful country, rural lifestyle and the hardworking and practical people.
Patients enjoyed his down-to-earth and empathic demeanor, diagnostic acumen, honest evaluation and the humor thrown in to lighten stressful situations.
Colleagues expressed high regard for Dr. Malburg and were impressed by his high quality of care, dependability and devotion to patient care. Dr. Malburg held certification from the American Board of Family Medicine, was a charter member of the American Academy of Family Physicians and was a member of the American Academy of Emergency Physicians.
He served as chief of staff at The Memorial Hospital in Craig, and was a member of medical societies in Denver, Fort Collins and Craig.He was selected to Alpha Delta Gamma Fraternity and selected to Who's Who Among Students in American Universities and Colleges at Quincy College and to Phi Chi Medical Fraternity at Marquette University School of Medicine.
Dr. Malburg was a father figure and a great support to his sister, Claudette, who became a single mother with seven young children. He also provided assistance to his brother Lawrence, who became a single parent with three young daughters.
Family was of utmost importance to him and many called him "Bernie Pa." A lifelong Catholic and member of the Knights of Columbus, Dr. Malburg also was a member of the Craig Kiwanis Club.
While professional demands allowed little free time, Dr. Malburg enjoyed escaping for fishing as often as possible as well as outdoor outings with family and friends. He truly enjoyed planting trees, of which he planted many, and watching them mature.
Football and hockey games, musical and theatrical events and gardening were other favorites.
Dr. Malburg will be inurned at the Craig grave site of his first wife, Mary Ellen, at a later date.
Arrangements are under the direction of Snell-McLean Funeral Home in Palisade.
To honor Dr. Malburg, memorial donations may be made to The Memorial Hospital Foundation, P.O. Box 1203,Craig, CO 81626.
Survivors include his wife, Ruth Esther; seven children, Bernard (Trip) John Malburg III, of Craig, Gregory Lawrence Malburg, of Colorado, Lucille (John) Marie Zimmerman, of Littleton, Madeline (Donald) Marie Butler, of East Prospect, Pa., Donald (Ann Marie) Michael Malburg, of Peyton, Glen Edward Malburg, of Farmington, N.M., and Dorothy (Henry) Ellen Barriner, of Wheat Ridge.
He also is survived by a brother, Jerome I. Malburg, of Lake Barrington, Ill.; a sister, Ayleen Van Beynen, of Marquette, Mich; and a former wife, Glenda Malburg.
Additional survivors include 13 grandchildren: Mary Ellen Malburg, of Yakima, Wash., Montana Jordan Malburg, of Steamboat Springs, Taylor Marie and John Tucker Zimmerman, of Littleton, Holly Frances Way, of Tampa, Fla., Thomas Daniel Way, of Flagstaff, Ariz., Shane Michael and Nicholas Dane Way, of Tucson, Ariz., Elizabeth Michelle and Mary Catherine Butler, of East Prospect, Pa., Alexander Michael and Nicholas Ryan Malburg, of Farmington, N.M.; and two great-grandchildren, Aura and Setara Noland, of Yakima, Wash.
Both parents preceded Dr. Malburg in death as well as his first wife, Mary Ellen; brother, Lawrence E. Malburg; sisters, Marie L. Lafeber and Claudette E. (O'Hearn) Reither; and grandson, Clayton Henry Lewis Butler.