Obituaries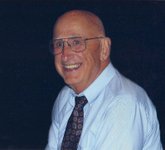 Craig
A funeral service for Bernard John Malburg Jr., M.D., 80, was March 6, 2010, at St. Ann's Catholic Church in Palisade. The rosary was recited Friday at St. Ann's. Dr. Malburg, a beloved husband, father, grandfather, brother, uncle, colleague and ...
Fremont, Neb., formerly of Craig
Axel "Bill" Nelson, 93, formerly of Craig, died Feb. 22, 2010, in Fremont, Neb. Survivors include his wife, Mary Nelson, of Fremont; daughters Peggy Campbell, of Craig, and Kathy Lay, of Riverton, Wyo.; sons Larry Nelson, of Riverton, Richard Nelson, ...