1927 - February 27, 2010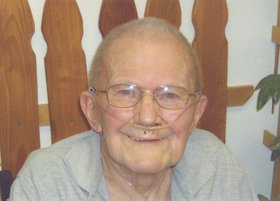 Former voice of Big Sky Country KRAI Radio in Craig, Dick Bonderud passed away Feb. 27, 2010, at the Hospice Care Center in Grand Junction.
He was born Nov. 19, 1927, in Carrington, N.D., to Oscar and Josephine Bonderud. Dick grew up in North Dakota and Pasadena, Calif., graduating in 1944. He then enlisted in the Coast Guard aboard the General Howze AP-134 and saw much of the world. Dick went to school on a GI Bill and became a pilot. For many years to come, he would enjoy flying.
In 1953, he became involved in radio at KUBC in Montrose. It was a short time after that he moved to Craig and became involved with KRAI radio. Dick was instrumental in the success of the radio station that became the voice of the surrounding areas and still is today.
He was a member of the Craig Lions Club, mayor of the city about 1966 and served on the Craig City Council. He was a lifetime member of the Veterans of Foreign Wars Post 4265.
Dick married Joyanna Bartlett in 1953. They were married until her passing in 1982. He then married Barbara Belleville in 1988.
Survivors include his wife, Barbara Bonderud, of Palisade; daughters, Jody Bonderud, of Phoenix, Ariz., Lisa (Tom) Westbrooke, of Jacksonville, Fla., Bridget Bonderud, of Phoenix, Ariz., and Becky (Lance) Davis, of Palisade; sons, Mark (Carol) Bonderud, of Monmouth, Maine, Jeff (Shonna) Belleville, of Grand Junction, and Lynn (Debbie) Belleville of Craig.
Also surviving are his brothers, Joe (Jan) Bonderud, of Lake Havasu, Ariz., and Fred (Linda) Bonderud of Scottsdale, Ariz.; 13 grandchildren; and seven great-grandchildren.
He was preceded in death by his father, Oscar, and mother, Josephine Bonderud, and his sister, Delores Hertel.
Cremation has taken place and no services are planned. Contributions in Dick's honor can be made to the Veterans Memorial Cemetery, 2830 Riverside Parkway, Grand Junction, CO 81501 or Hospice and Palliative Care of Western CO, 3090 B North 12th St. Grand Junction, CO 81506.