Obituaries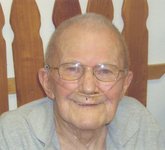 Former voice of Big Sky Country KRAI Radio in Craig, Dick Bonderud passed away Feb. 27, 2010, at the Hospice Care Center in Grand Junction. He was born Nov. 19, 1927, in Carrington, N.D., to Oscar and Josephine Bonderud. Dick ...
Roy F. Southard, of Craig, died Sunday, Feb. 28, 2010, at his home. Services are pending.
Jay L. Briggs, 90, of Cameron, W.V., died Friday, Feb. 26, 2010, at Reynolds Memorial Hospital in Moundsville, W.V. He was born March 30, 1919, in Glen Easton, W.V., the son of the late Talbert and Allie Dobbs Briggs. He ...