1938 - June 17, 2010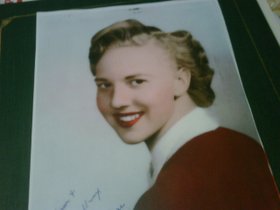 Clara Mae Manley was born Dec. 19, 1938, in Oak Creek. She graduated from Oak Creek High School in 1957 and was a waitress in Steamboat Springs during her high school years.
She met and married Harold Williamson right after high school, and they immediately started their family — four children, Linda, Marla, "Bud" and Scott. She had eight grandchildren: Cody, deceased 2005, Kimberlie, Clancy, Amanda, Connor, Justin, Christopher and Rebecka.
She spent most of her life in Routt County, and her heart was always in Oak Creek.
Her parents were Violet and Albert Manley. She had three sisters: Velma, Wanda and Anita. A brother, Albert LeRoy, passed away in 2004.
She loved playing cards and games; she made quilts to give to her family; she spent her last few years in Grand Junction.
Clara passed June 17, 2010, in Grand Junction.
A service is at 10 a.m. Sunday, June 20, at Elsie Cerise's home at 236 Main St., Yampa, with a potluck luncheon to follow. Burial will be in Oak Creek.
In lieu of flowers, monetary donations will go toward the purchase of a headstone. The remaining balance will be donated to the Doak Walker Care Center in Steamboat Springs. Please make checks payable to: Velma Williamson, 15892 County Road 40, Platteville, CO 80651.