1994 - January 11, 2010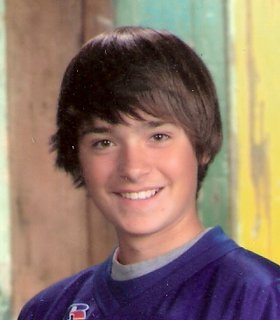 Austin Lee Mills, of Craig, died Jan. 11, 2010, at his home. He was 15.
Austin was born Aug. 15, 1994, in Fort Morgan, the son of Dawn Finley and Wade A. Mills. He was raised in Brush and Fort Morgan, where he attended local schools and most recently Riverview Christian School. He moved to Craig with his father and stepmother in August 2009.
Austin was a freshman at Moffat County High School and was on the freshman football team.
He enjoyed riding motorcycles, fishing, playing golf, baseball, running track, playing video games, reading parts books and learning about cars. He was also an avid supporter of the Moffat County High School girls swimming team and was very close to his extended family.
He is survived by his father and stepmother, Andy and Tammy Mills, of Craig; mother Dawn Covey, of Brush; half-sisters Heather and Amber Covey, of Brush, and Mandy (Cory) Dobozenski, of Maplewood, Minn.; half-brother Derrick Covey, of Fort Morgan; stepbrothers Jason (Donna) Howell, of Fort Morgan, Kyle (Meghan) Francone and their son, Eli, of Craig, and Levi (Carol) Francone, of Wiggins; grandmother Margaret Smith, of Brush; grandfather Paul Mills, of Bay City, Texas; step-grandparents Joanne Rohn-Cook and Edwin Cook, of Wiggins, Linda Beauprez, of Greeley, and Roland Rohn, of Hoyt. Austin also is survived by numerous aunts, uncles and other relatives.
He was preceded in death by his grandmother, Mary Mills.
A funeral was Jan. 15, 2010, at The Craig Latter-day Saints Chapel with Bishop Joe Ence officiating. Viewing took place an hour before the service.
Services also took place Jan. 16, 2010 at the Fort Morgan Latter-day Saints Chapel with Bishop Mike Patterson officiating with viewing an hour before the service.
Interment will follow in the Hoyt Cemetery in Hoyt. Memorial donations may be made to the Boys & Girls Club of Craig, in care of Grant Mortuary.