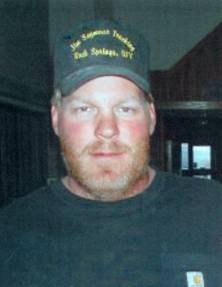 Wayne Clark, of Green River, Wyo., was snowmobiling with his friends Jan. 23 up Lost Creek, east of Baggs, Wyo., when he met an untimely death.
Woodrow Wayne Clark was born April 13, 1970, in Farmington, N.M., to Larry and Ann Clark.
Wayne started his education attending pre-kindergarten in Holland while his family was residing there. He learned to speak Dutch with the children.
He started his American education in Evanston, Wyo., and in 1977, his family moved to Baggs, where Wayne attended school and graduated from high school in December 1989.
Wayne married Tanya Sarah Mobley, daughter of Alan and Charlotte Mobley, on Dec. 29, 1993, in Meeker, where the bride grew up.
The couple lived in and around the Baggs area, Rock Springs and most recently in Green River, where Wayne worked as a truck driver in oil field related jobs.
He continued to return to his home stomping grounds as a local of the Snake River Valley, where his friends and family reside and where took part in his love of hunting, fishing and snowmobile activities.
Both Wayne and Tanya have many friends and are known to many around Baggs.
Wayne and Tanya are blessed with three sons, Brody, Dalton and Jaxson.
Wayne was an avid snowmobiler, hunter and fisherman, and had a love of the outdoors and passed this enthusiasm to his sons.
Wayne is survived by his wife of 16 years, Tanya; sons Brody Wayne, 12, Dalton Roy, 9, and Jaxson Lee, 6, of Green River, Wyo.; parents Larry and Ann Clark; brother Steven and wife, Jennifer; nieces Courtney, Ashley, Brianna and nephew Clayton, all of Baggs, Wyo.; grandmother Vera Clark, of Farmington, N.M.; and several aunts, uncles and cousins. He is also survived by several family members in Meeker.
Wayne is preceded in death by his grandfather, Woodrow Clark, and his father-in-law, Alan Mobley.
A service was Jan. 29 in Baggs, with internment at the Reader Cemetery in Savery, Wyo. In lieu of flowers, the family requests that donations be made to The Wayne Clark Memorial Fund, Trona Valley Federal Credit Union, 840 Hitching Post Drive, Green River, Wyo., 82935.