1924 - January 18, 2010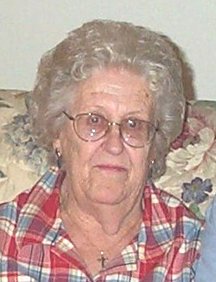 Mildred Lavaughn (Forbes) Brooks died Jan. 18, 2010 at Hendersonville Health and Rehabilitation in Flat Rock N.C. She was 85.
Mildred was born Aug. 11, 1924 to Hill and Marie (Taylor) Forbes, of Deer Creek. She was the second child, as brother Hilliard Ernest died in infancy. Two additional children — Leonard and Stanley — were born to the Forbes'. The family's early years were spent on Deer Creek and later they moved to their ranch on Morapos Creek.
Mildred attended Deer Creek School and graduated from Moffat County High School in 1941. She married William Cummings the following year and their daughter Sharon was born in 1947. William died in 1947 of leukemia, as a result of his Army service. Mildred and Sharon worked their ranch on Morapos Creek until 1953, when she married Jack Brooks, of Pampa, Texas.
The Brooks' had two additional children — Jack L. and Vickie. Jack Brooks worked for Union Carbide and the family transferred to Rifle in 1964, after the plant near Maybell closed.
When the Rifle plant closed in 1972, they moved back to Craig and purchased the Sinclair station at the corner of Victory Way and Ranney Street.
Mildred worked at the Little Snake Resource Area office of the Bureau of Land Management for several years and had many dear friends there.
In 1999, she moved to Hendersonville North Carolina to be with her children in her retirement. Mildred was a strong committed Christian and a member of Calvary Baptist Church and the Order of the Eastern Star. Mildred was an expert quilter and made many beautiful quilts and wall hangings for friends and family.
Mildred was preceded in death by her parents, Hill and Marie Forbes; brothers Hilliard, Leonard, and Stanley; brother-in-law Bill Cole; husbands William Cummings and Jack Brooks; and son Jack L. Brooks.
She is survived by daughters Sharon (Steven) Vance, of Hendersonville, N.C., and Vickie Brooks, of Maryville, Tenn.; grandchildren Mason C. Brooks, of Clayton N.C., Aric (Heather) Vance, of Asheville N.C., and Shannon (Seth) Vance-Huskey, of Hendersonville N.C.; and great-grandchildren Simon Huskey and Faolan Brooks.
She is also survived by dear sisters-in-law Marjorie and Louise Forbes and Toni Cole, as well as numerous nieces, nephews, and friends.
She will be dearly missed by all.
Mildred will rest with her family on Morapos Creek.