1918 - December 12, 2010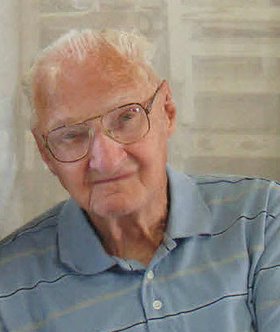 Charles Don Morgan, 92, of Brush, formerly of Hayden, died peacefully in his sleep Dec. 12, 2010, at Sunset Manor in Brush.
Don was born July 10, 1918, to Otto Lee and Emma Mae Mor­­gan in Parkville, Mo. He grew up and attended school in Denver. He then attended Colorado Teachers College in Greeley.
On Dec. 23, 1941, he married Jacqueline C. Clark in Kimball, Neb. They lived in Mancos before moving to Hayden in 1960. He was a school teacher, school administrator and basketball coach. Don was a lifetime member of the BPOE (Elks Lodge), a lifetime member of American Legion Post No. 89 in Hayden and a member of the Hayden Congregational Church.
Don dedicated his life and career to educating and helping kids of all ages. Through his teaching, coaching, community activities and church involvement, Don touched the lives of many young people as well as adults. Don played fast-pitch softball for the Johnstown Judds for more than 25 years. He pitched in the first Colorado team to place in the World Softball Tournament in Greeley. He was also a renowned horseshoe pitcher. Don also served as a major in the Army during World War II.
For entertainment, Don enjoyed traveling and making yearly trips with his wife to Las Vegas. In earlier years, he enjoyed playing team softball and being umpire for the women's softball league. Although not musically inclined, Don had a real love and appreciation for all kinds of music. As recently as a year ago, he attended community band concerts in Fort Morgan. He was an avid Broncos and Rockies fan and attended games for several years.
Don is survived by a son, Chuck Morgan, and wife, Marsha, of Fort Morgan; a daughter, Donna Smith and husband, Mike, of Bullhead City, Ariz.; a sister, Lala LeBlanc, of Attleboro, Mass.; a grandson, Maj. Ryan Morgan, and wife, Michelle, of Fort Drum, N.Y.; a granddaughter, Nicole Ellman, and husband, Zach, of Flagstaff, Ariz.; a granddaughter, Kimberly Fox, of Fort Collins; four great-grandchildren, Ashley Fox, of Fort Collins, and Brendan, Katherine and Sarah Morgan, of Fort Drum, N.Y.
He was preceded in death by his wife, Jacqueline; a sister; and two brothers.
Memorial contributions may be made to the MCC Platte Valley Band, a nonprofit organization, in care of Ben Hamilton, 22535 Morgan County Road, U 5-10, Fort Morgan, CO 80701.
The family will have a private service at a later date.