1934 - August 18, 2010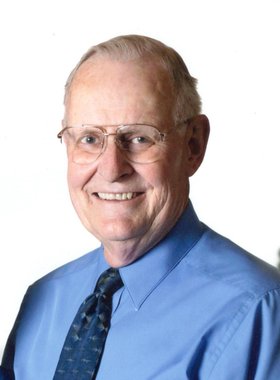 Robert Earl Miller, died Aug. 18, 2010, at his home in Fort Collins after a six-and-a-half year battle with cancer. He was 76.
Robert was born July 24, 1934, on the family ranch north of Craig, to Charles O. and Louise Salabar Miller. He was a 1952 Moffat County High School graduate.
In 1957, he earned a bachelor's degree in general agriculture from Colorado A&M, before returning to operate the family's sheep and cattle ranch. During this period, he was very active in local organizations, holding leadership positions in the local and state Farm Bureau, local Soil Conservation District, Young Republicans and County Republican Party, and at First Christian Church in Craig.
He was a member of the Cattlemen's Association and participated for years in the annual Moffat County Fair.
Robert was also one of several nominees for Outstanding Young Farmer and Rancher. \
In 1965, at the invitation of Gov. John Love, he served on the Colorado Governor's Forum charting the future of Colorado. He was also a substitute teacher in the junior and senior high schools in Craig.
In June 1962, Robert married Eunice Rumsey in Greeley. To this marriage, two sons were born, Trent and Bryce.
In March 1966, Robert and his family left the ranch and moved to Fort Collins, where he worked part-time in construction. In 1969, he earned a bachelor's degree in industrial arts from Colorado State University before joining the staff at Lincoln Junior High School, where he taught until his retirement in 1995.
Before his retirement, Robert was named Lincoln's Teacher of the Year. Shortly after retiring, he accepted an invitation to join the support staff at Allnutt Funeral Service. Robert was associated with Allnutt until his death.
Robert was a long-time member of Christ Center Community Church, formerly First Christian Church, of Fort Collins. He served on the church board, teaching adult Sunday school class, singing in the choir and assisting his wife with her position in Christian Education. Robert and Eunice were members of the Fort Collins Square Dusters square dance club. Robert was also a member of the Colorado Industrial Arts Association, and a lifetime member of the CSU Alumni Association.
In his spare time, he was a hiker, biker, swimmer, photographer, gardener, handyman, care giver to the elderly and volunteer with the Boy Scouts. Robert also enjoyed traveling both within the U.S., and abroad, using his travels to satisfy his fascination with railroading.
Robert is survived by his wife of 48 years, Eunice; sons Trent (Cindy), of Golden, and Bryce, of Fernandina Beach, Fla.; grandchildren Alessandra and Breighton, of Golden; brothers Charles (Jeanne), of Willmar, Minn., and Glenn, of Craig; sister Jean (James) Hagan, of Big Fork, Mont.; and brother-in-law Ross (Virginia) Rumsey, of Greeley.
He was preceded in death by his parents; both sets of grandparents; and sister Marjorie (Don) Dudley, of Tucson, Ariz.
A funeral service was August 21, 2010, at Christ Center Community Church in Fort Collins. Cremation took place following the service.
Memorial contributions may be made to Christ Center Community Church, Pathways Hospice or the Boy Scouts of America, in care of Allnutt Funeral Service, 650 W. Drake Road, Fort Collins, CO 80526.
Friends may leave condolences and memories of Bob for the family at www.allnutt.com.