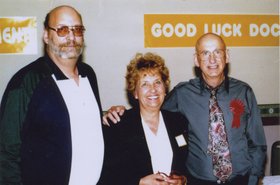 The children of Larry Malburg, Claudie O'Hearn and Bernie Malburg, pictured from left, gathered July 31, 2010, to honor their parents at the Craig Cemetery.
After losing all three family members within 14 months of each other, cousins and siblings buried their loved ones' ashes on the same day.
The Rev. Mike Rapp, of St. Michael Catholic Church, presided over the prayer services, and the families had a reunion/barbecue at Freeman Reservoir, a favorite family location.
Although Larry, Claudie and Bernie lived in different locations recently, they always considered Craig their home, and never wanted to be far from happy memories and their beloved Rocky Mountains.
The family remembers them through a favorite prayer:
We thought of you today
We thought of you with Love today but that is nothing new.
We thought about you yesterday and days before that too.
We think of you in silence and often speak your names.
All we have are memories and your pictures in a frame.
Your memory is our keepsake with which we'll never part.
God has you in his keeping, we have you in our heart.