1929 - August 5, 2010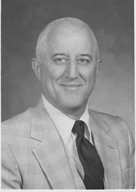 Ray Perry Merrick, 81, a loving husband, father, grandfather and friend, died Aug. 5, 2010.
He was born Jan. 30, 1929, in Hobart, Okla., to Everett R. and Eula B. Merrick.
Ray served in the Air Force from 1950 to 1954, and married Dolores Krigbaum in 1955. They moved to Colorado after he received his master's degree in education from the University of Oklahoma. They had four children.
Teaching in Denver for six years, Ray completed coursework for a doctorate from the University of Denver. In 1962, the family moved to Craig, where Ray was principal of two elementary schools.
In 1970, he became the assistant superintendent of schools and director of special education for the Moffat County School District until he retired, in 1988.
He served as state president of the Colorado Association of Elementary School Principals, and of the Colorado Association of School Executives. He was also appointed to Gov. Bill Lamm's education taskforce.
In Craig, Ray and Dolores joined First Baptist Church, where he taught Sunday School and served as Sunday School superintendent and deacon. He was a Gideon and Lions Club member.
After retiring, Ray and Dolores lived in Venice, Fla., Mustang Island, Texas, and, for 13 years, in Corpus Christi, Texas. In each place, they joined the local Baptist church.
Ray was a significant prayer warrior during his later years.
He was preceded in death by his parents; brothers Reese and Enos; daughter Debra Merrick Goetz; and grandson Brendan Harper.
He is survived by his wife, Dolores; sister Roena Holland, of Hobart, Okla.; children Sheila Harper and James Merrick, of Craig, and Perry Merrick, of Woodland Park; 12 grandchildren; and numerous great-grandchildren.
A lifelong believer in helping people with whatever he had, Ray requested his body be donated to medical science.
Instead of funeral and burial services, a celebration of his life took place at the family home in Corpus Christi, Texas.