1919 - July 26, 2010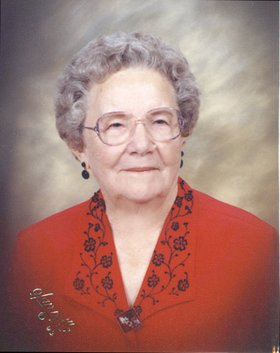 Elba Mildred Long died on Monday, July 26, 2010, in Oroville, Calif.
Born in Craig April 7, 1919, to Paul and Mattie Miller, Elba was born the third of 10 children.
Elba graduated from Craig High School. She married George Davidson on June 7, 1938. They had five children.
Elba was a telephone operator, back when it was "number please." She also worked as a waitress in Steamboat Springs.
Elba and George were divorced in 1951. In 1960, she brought four of her children to California.
Here she was a nurse's aide in Willows Hospital, in Willows, and a police matron in Orland.
She loved to dance, and while in her 80s she would do the "Irish jig," and would dance until the whole song was over.
She played in the Yokulladies, playing her ukulele for all the older generation with other ladies who soon became her friends.
Elba remarried in 1979, marring Hoover Long. He preceded her in death in November of 1996. She is also preceded in death by her oldest son, Paul Davidson; her brothers Wilson and Robert Miller; and sisters Gloria Van Dorn and Jean Sowards.
She is survived by her sisters Lucille Van Dorn, Elizabeth (Perry) Van Dorn and Maxine (Elwin) Updike; brothers Courtney (Wilma) Miller and George (Joyce) Miller; and sisters-in-law Verna and Virginia Miller, and Jackie Nichols.
She is also survived by her children, Bob Davidson, Donna (Dave) Myers, Mildred (Gene) White and Doug (Deb) Davidson; Paul's wife, Loretta Davidson; her extended family, Loleta (Ben) Waters and Pat Mosher; and her first husband, George Davidson.
She had 13 grandchildren, 23 great-grandchildren and two great great-grandchildren.
She leaves behind many friends, her best friends from the Evangelical Free Church in Chico, Calif., and her new friends at the Foothill Church of Christ in Oroville.
The family would like to thank all the lovely people who took care of her, her doctors, nurses and her special friends, Myrna and Julie, and all the workers at the Oroville Hospital and Oliver Ridge Care Home.
There was a funeral service in Craig at 10 a.m. Saturday, July 31, at Grant Mortuary. There is a memorial service in Chico, Calif., at 2 p.m. Friday, Aug. 6 at the Evangelical Free Church on Filbert Avenue.