1915 - April 15, 2010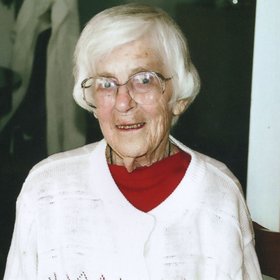 Louise Martha Fedinec, a lifelong Craig resident, died April 15, 2010, at The Memorial Hospital in Craig. She was 94. The matriarch of the Knez and Fedinec families, she was an example of strength, courage, faith and love.
Louise was born Dec. 8, 1915, in Craig, to Joseph and Marie (Mahowald) Knez, the eldest of five children.
She grew up on the Knez homestead south of Craig, where her father, Joe L. Knez, owned and operated a coal mine for many years. Louise attended the Rock Valley School, a one-room schoolhouse, and graduated from Moffat County High School in 1934.
On June 29, 1937, she married Charlie Fedinec.
They made their home on the Fedinec ranch in Breeze Basin until 1967, when they moved to town. Charlie and Louise had two children, Edith Joy ("Edie") and Charles Leon ("Leon").
Louise enjoyed cooking, baking, gardening, sewing, quilting, fishing, and camping. Her relatives all remember her delicious homemade bread, rolls, pies, noodles, waffles, cakes, and cookies. Louise also loved canning peaches, tomatoes, beans, beets, choke cherry jelly, crab apple jelly, and pickles.
She was well known for her beautiful quilts, of which she made more than 40 for friends, family, and St. Michael Catholic Church raffles.
She enjoyed being a 4-H leader, teaching sewing, gardening, and home beautification for the Breeze Basin Cowpokes. For many years, she was active in the Moffat County Cowbelles, serving two years as president. During her lifetime, she had been a member of the Young Farmers, Farm Bureau and the Farmers Union.
After moving to town, Louise was a cook at Valley View Manor for more than 12 years. After that time, she prepared lunch for Five Senses Day Care for more than 7 years.
During her life, she was a very faithful person. She was very active in the Altar and Rosary Society at St. Michael. Over the years, she served as president, secretary, treasurer, and historian. She also regularly volunteered cleaning the rectory and where needed.
In her younger years, she enjoyed traveling to Minnesota to visit her mother's relatives, and to New York and Pennsylvania to visit her husband's relatives. She especially enjoyed regular visits with her grandchildren and great grandchildren in New Jersey, Chicago, and Las Vegas. Most of all, Louise was at home in Craig.
Louise lived independently in her home in Craig until weeks before her death. She always remained active and busy, cooking, praying with her Rosary group, visiting with family and friends, as well as taking care of her great-granddaughter, Cheyenne.
She is survived by her daughter, Edie Halpern, of Chicago; grandchildren Jeffrey Halpern, of Chicago, Jorn (Jennifer) Fedinec, of Las Vegas, Kia Fedinec, of Craig, and Nicole (James) Murphy, of Chicago; great grandchildren Madalyn Murphy, Audrey Murphy, Owen Murphy, Cheyenne Gensler, Zachary Fedinec, and Sydney Fedinec; sister-in-law Cleo Knez; and numerous nieces and nephews.
Louise was preceded in death by her parents; husband Charlie Fedinec, some 30 years ago; son Leon Fedinec; daughter-in-law Marjean Fedinec; son-in-law Stephen Halpern; sister Marie; brothers Joseph, Antone, and Raymond; and half sister, Roselyn.
Rosary was said on April 18, 2010 at St. Michael Catholic Church. A funeral mass took place April 19, 2010, also at St. Michael Catholic Church. Interment was at the Craig Cemetery.
Memorial donations may be made to St. Michael Catholic Church, 678 School Street, Craig, CO 81625.