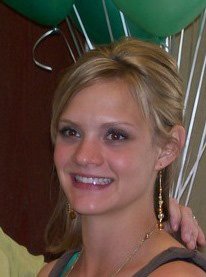 Dannah Eden Foster, 23, of Clifton, died April 8, 2010, from a fall while camping.
She was born to Patricia and Wayne Tessmer in Craig. In 2005, she graduated from Middle Park High School in Grandby.
Dannah married her high school sweetheart, James Foster, on June 28, 2008, in Fruita.
She is survived by her husband, James Foster, of Clifton; parents Wayne and Patricia Tessmer, of Denver; brother, Nicholas E. Tessmer, of Fort Drum, N.Y.; grandmother Patricia Boone, of Mesa, Ariz.; aunts Kathleen MacCleary, of Payson, Ariz., and Theresa Cline, of Mesa, Ariz.; uncles, Mark (Toni) Boone, of Helena, Mont., and Jim (Judy) Tessmer, of Apache Junction, Ariz.; 11 cousins, and her godmother Patricia Vielehr Evans, of Longmont.
She is preceded in death by her grandparents Elmer (Ruth) Tessmer, and Marvin Boone; uncle Daniel Boone; and cousins Richard Edget and Kim Keefer.
Dannah loved camping, hiking, rafting and was a talented artist. She was a beautiful soul with a mischievous sense of humor, an infectious laugh and a gift for bringing joy to all.
There will be a celebration of life reception from 2 to 5 p.m. today, April 15, 2010, at the Old Chicago restaurant, First St. and North Avenue in Grand Junction.
Memorial contributions can be made to the Dannah Foster Memorial Fund at Bank of the West.