1989 - November 16, 2009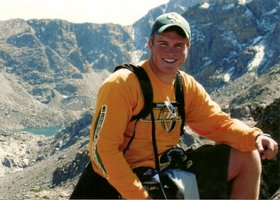 Cory Dustin Pike, 20, of Craig, died Nov. 16, 2009, at Poudre Valley Hospital.
Cory was born April 11, 1989, in Fort Collins, to David W. and Jeannine Johnson Pike. In 2007, he graduated from Moffat County High School in Craig.
Cory loved the outdoors, organized and unorganized sports, music, family and friends.
During high school, he was a member of the MCHS football and track teams. He played on two state playoff football teams, and as a senior, placed eighth at the state track meet in the shot put.
Cory was an avid skier in the winter and loved to fish in the summer.
He could be convinced to go camping or attend a barbecue anytime. Cory was a huge music fan and played the guitar.
Cory was enrolled at Colorado State University and was majoring in construction management. His infectious smile and loving personality will be missed by all who knew him.
Survivors include his parents, David and Jeannine Pike; brother Tyler David Pike; grandmother Marian Ford Pike; numerous aunts, uncles, and cousins; and dogs Brandy and Lucy Pike.
Preceding Cory in death are his paternal grandfather, Dr. Robert H. Pike; maternal grandparents Charles and Barbara Johnson; and uncle Randy Charles Johnson.
A memorial service is at 11 a.m. Saturday at Craig Christian Church, 960 W. Victory Way in Craig.
A reception will follow at 1 p.m. at the Center of Craig, 601 Yampa Ave. A graveside service will take place in Fort Collins next spring.
Memorial contributions can be made to the Cory Pike Scholarship Fund and sent to Yampa Valley Bank, 435 Mack Lane, Craig, CO 81625; att: Tonya Griffith.
Friends may send condolences to the family at www.bohlenderfuneralchapel.com.